Parliament House
Legislative Assembly Chamber
The Legislative Assembly Chamber was finished in November 1856. It was fully refurbished in 2003, with new chairs replacing old bench seating.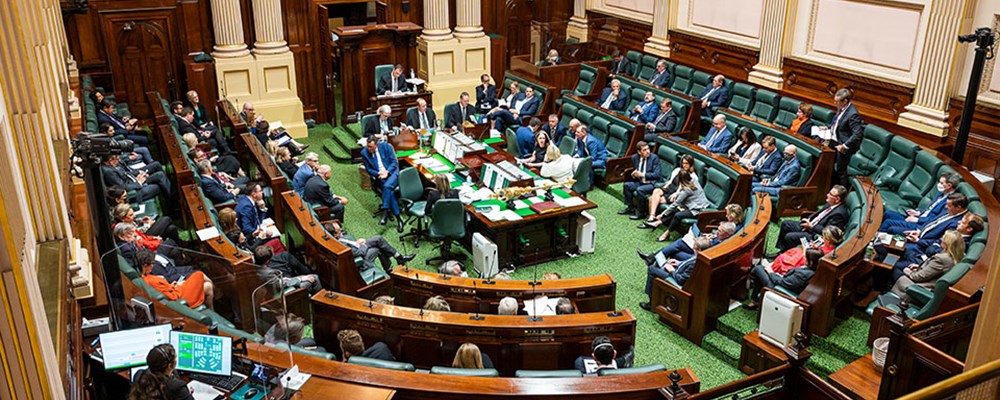 Why the Chamber is green
Green is the main colour used in the furniture and fabrics of the Chamber. This reflects the use of green in the United Kingdom's House of Commons.
There are many theories on why the House of Commons is green, the most common being that in the middles ages:
communities met on the green grass of the local 'commons' to discuss rules
green was a cheap dye used to colour clothes of many 'common' people
the House of Commons met at St Stephen's Chapel, which may have been painted green
green was a symbol of Christian virtue
The centre table
A table at the centre displays books which contain Acts of Parliament which currently apply in Victoria.
On a sitting day this table seats the Premier, the Deputy Premier and the Leader of the House, along with the Leader of the Opposition, the Deputy Leader of the Opposition and the Manager of Opposition Business.
The parliamentary mace is placed at the head of the table when Parliament is sitting.
Viewing galleries
Along two walls there are balconies for viewing the debates, called galleries. The media sit in the gallery above the Speaker's chair, while the public sit in the opposite gallery.
Other features
The walls and ceiling are decorated with 23.5 carat gold leaf.
The Chamber's chandeliers are made of Waterford crystal from Ireland, each with 3,997 crystal pieces and 46 light globes. Installed in 1985, at the time they cost $130,000.