Stonemasons of Spring Street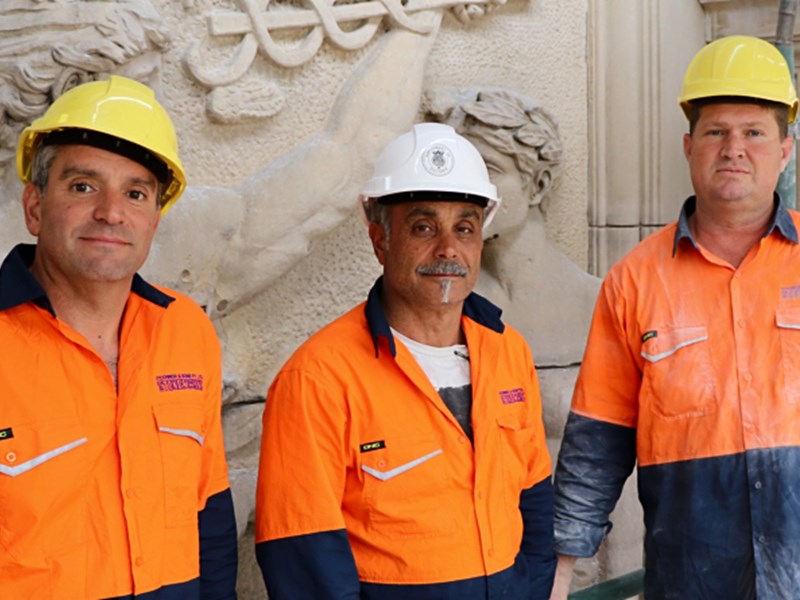 Parliament's major restoration project is also helping to rejuvenate an artisan craft.
They've been at it for more than a decade, chipping away with a skill that's almost been forgotten. Each day, they travel up a construction lift and clamber through a maze of scaffolding, hard at work on one of Australia's largest heritage restoration projects.

On every side Melbourne's skyline provides a dramatic backdrop for the team of stonemasons who are reviving the grand old dame at the top of Bourke Street.

The Parliament House project is a labour of love for these craftsmen, not only because of the admiration they have for the building, but also because restoration efforts like these are keeping traditional heritage masonry alive in Victoria.

Tim O'Connor, who heads up the project, has more reason than most to feel a connection to this place. He has spent a total of 15 years at Parliament House, almost one third of his life, and there is still much work to do. He says the magic of this building has never faded.

Tim began his masonry apprenticeship with the Department of Public Works in the 1980s. It was back then he had his first stint at Parliament House, helping with some of the repair works. During that time, Tim learnt the skills of the trade and became inspired by the building.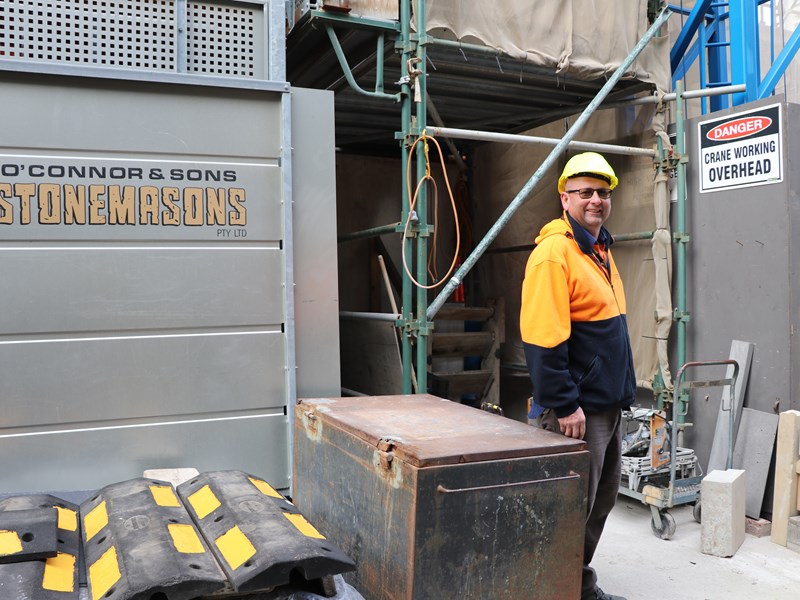 He was following in his father's footsteps, who had picked up the craft of stonemasonry after returning from service in World War II, eventually founding his own company.

After his father passed away, Tim would come to lead O'Connor and Sons Stonemasons, and returned to Parliament House in 2006 to embark on this decade long odyssey.

One of the wonderful parts of this project, says Tim, is the amount of people who have actively engaged with the process.

'It's when people get up close and touch the building that they really get a sense of the incredible detail and artistry that's gone into it,' says Tim. 'A decade on, I still feel like I discover something new every day.'

Joe Michienzi, whose older brother Tom also works on the site, agrees that no two days are the same. Joe started his apprenticeship at age 18 and says that working with stone came naturally. He won a number of local competitions and even made it through to the national trade championships in masonry.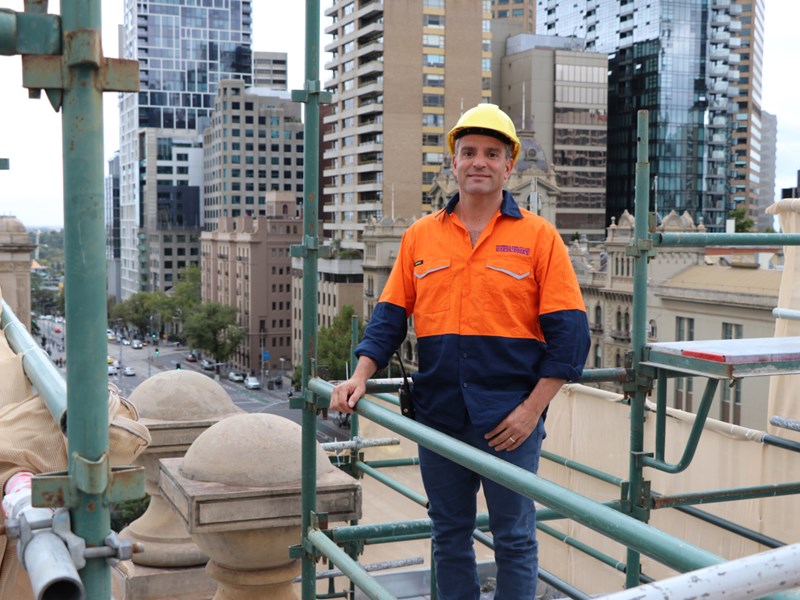 These days, Joe is the one who does all of the 3-D modelling on site. This use of technology allows the team to create mock-ups and map out the project, ironing out the potential for miscalculations before they begin work on the stone itself.
Without the assistance of these new technologies, the time and cost alone would have rendered this project impossible, explains Joe.

Built during the booming gold rush years, there were no such obstacles for the ambitious architects of Parliament House. The original project would have had between 700-1000 stonemasons all working on site, each specialising in one specific task to form an enormous production line.

Alongside the stonemasons, blacksmiths would have spent their days ensuring a constant supply of sharp chisels and hammers.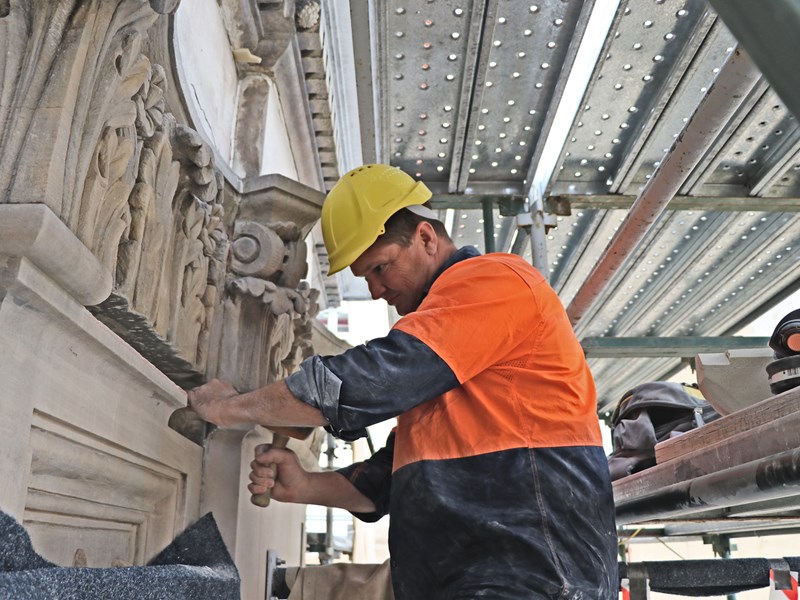 More than 160 years on, the current team of 20 needs to rely on modern day muscle to deal with the grand scale of the task confronting them.
'The largest single piece of stone we've replaced weighed 3.5 tonnes,' says Tim. 'Without a crane we would have had to use block and tackle.'

But when it comes to the fine detail, intricate work is still done by hand.

'Patience and an eye for artistry are essential,' says Joe. 'You have to be able to visualise the 3-dimensional shapes you are creating in the stone.'
" A heritage building like this still being used for its original purpose is a great thing. A lot of the work we're doing is to make sure that can stay the case. "

Tim O'Connor
These days it is becoming harder to find stonemasons who have the skills for such heritage restoration work. Many of Australia's master stonemasons have either retired or passed away, and often there is no one to fill the void.
The work is slow. For a younger generation, accustomed to a faster-paced society, this can be hard to get used to.

'You have to be able to find pride in each small piece of work you do,' says Joe. 'But also to step back and appreciate the overall impact of the work.'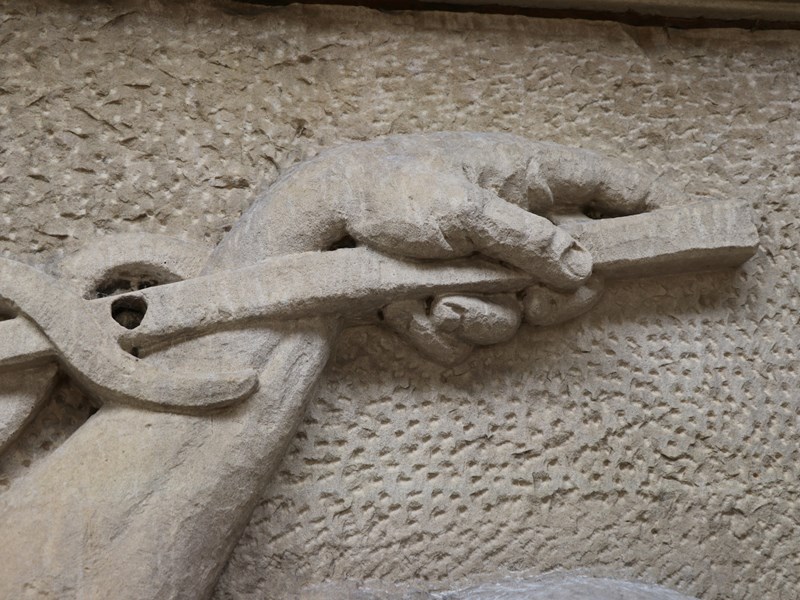 For the stonemasons, knowing that their kids and grandkids will get to appreciate this majestic building at its best fills them with pride.

'This is not just a repair job,' explains Tim. 'It's a one hundred year job.'

This has meant devising cutting-edge systems to ensure Parliament House can withstand the tests of time. For instance, the copper flashing that now covers the roof is a unique design to keep the building completely water-tight.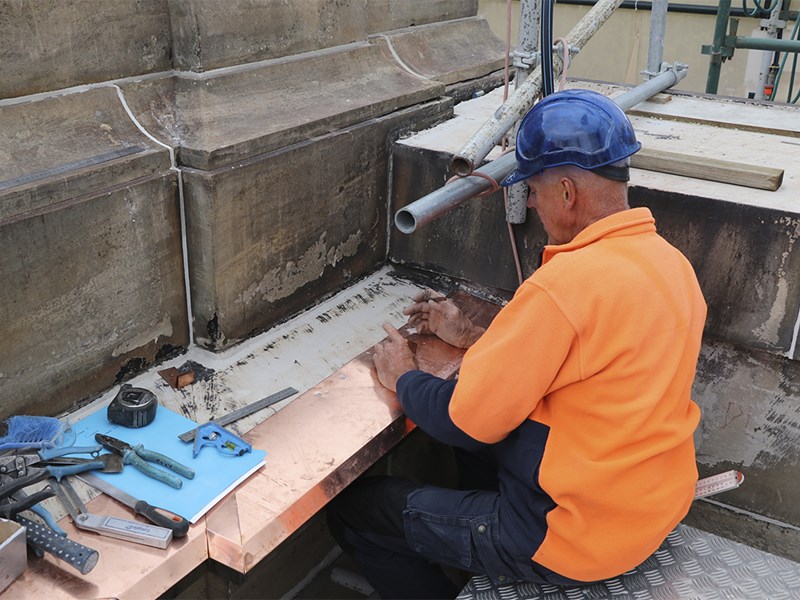 At other times it's undoing the rather strange patch-up jobs from the past.

'Definitely the most inventive repairs we've found are stones held together with coat hangers, and in one case even a car aerial,' says Tim.
Perhaps most ground-breaking has been establishing a cataloguing system for the building. Each stone has been numbered and mapped, with any actions recorded, so the team knows exactly what's been done.

Determining which stones need to be repaired can be a delicate task.

'It's a bit like playing the piano,' says Tim. 'You go along tapping the stone with a chisel and as soon as it doesn't ring you know there's a problem.'

For any future works, having a comprehensive record like this will be an invaluable resource.

'A heritage building like this still being used for its original purpose is a great thing,' says Tim. 'A lot of the work we're doing is to make sure that can stay the case.'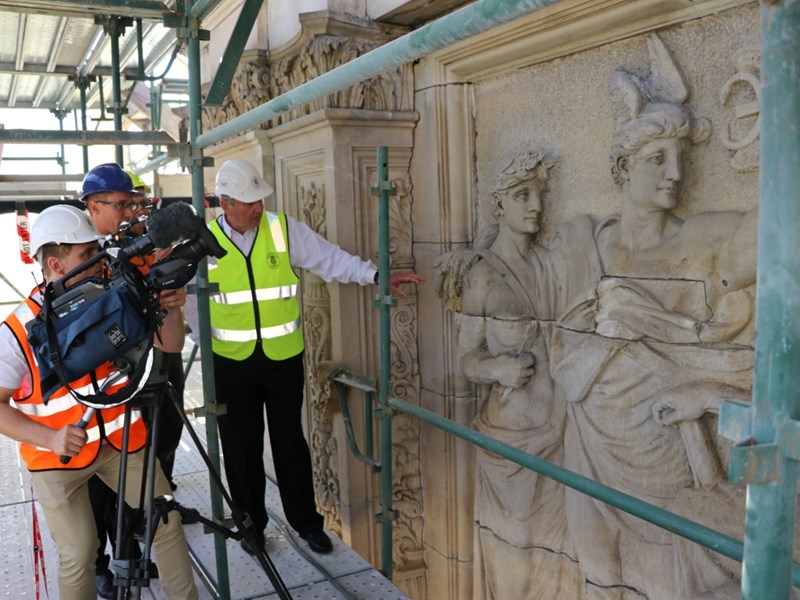 Life after Parliament House may be difficult to imagine after so many years on the job, but with only a few stages of restoration left, it's no longer a distant future for Joe and Tim.

What's clear is that these stonemasons of Spring Street have a respect for this building that will not end when the project is over.

As Joe says, they are leaving 'something great behind'.