Unis face questions on skills investment challenge
12 August 2022 Watch public hearing snapshots
Nine Victorian universities have appeared before a parliamentary inquiry examining the sector's investment in skills.
Members of the Legislative Assembly Economy and Infrastructure Committee questioned multiple high-ranking academics at two public hearing roundtables.
Allowing more work integrated learning such as placements and internships was seen as a vital way to help solve skill gaps, particularly in regional and rural Victoria.
'Opening up more opportunities for clinical placements might be one; better pathways, seamless pathways, between TAFE and university could be another,' Latrobe University Vice-Chancellor, Professor John Dewar said.
Universities agree the current process for a student transferring from TAFE to university is too complicated.
'I would encourage everyone to get involved in how we can make those transitions between TAFE and university as seamless as possible for students,' Deakin University Acting Vice-Chancellor, Professor Liz Johnson said.
Australian Catholic University Deputy Vice Chancellor Professor Meg Stuart encouraged the State Government to lobby for extra Commonwealth supported places for people changing careers.
" 'The challenge, I think, for us is to attract our metro-based students to regional careers,' "

Prof Meg Stuart, Australian Catholic University
Dual-sector representatives backed the development of multi-sector campuses. The concept involves having a school, TAFE and university on one site.
'They are not only gaining great practical and industry-based problem-solving skills at the tech schools, but they are exposed to the concepts of where they can take their learning in terms of tertiary education, whether that be through TAFE or through university,' Victoria University Deputy Vice-Chancellor Dianne Semmens said.
The value of short courses and certificate-style non-accredited training was also canvassed.
A lack of understanding of so called 'micro-credentials', and uptake by industry was identified as a barrier to upskilling.
'It is often the case that those particular programs will be developed but then it is hard to get industry to release their people to actually participate. So again, it is important to incentivise industry to do so,' Swinburne University of Technology Pro Vice-Chancellor Andrew Kong said.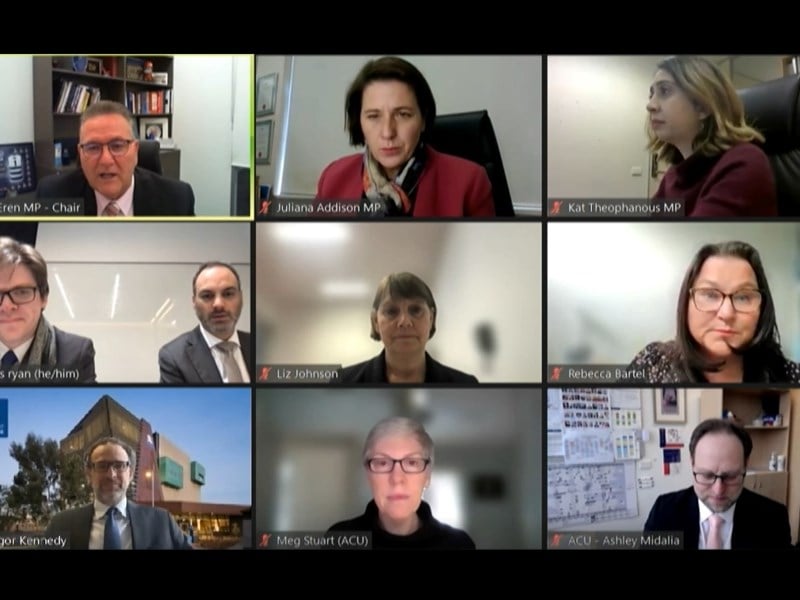 Several of the 26 public submissions received by the Committee have raised the prospect of greater industry involvement in the university curriculum.
Academics highlighted the extent to which most of their degrees including course content and work-based learning are already accredited by professional bodies.
'Don't underestimate just how much of what universities teach and how they teach it is already determined by professional accreditation requirements,' Prof Dewar said.
Ways to encourage enrolments in priority skill areas and improve collaboration between industry, government and educational institutions were also raised during the hearings.
Other educational institutions offering degree qualifications, government bodies, industry associations, regional groups, unions and think tanks have also been consulted.
Full public hearing transcripts are on the inquiry website. Snapshot videos are on YouTube.
A report to parliament is due in September.