Historic tradition with a modern touch
20 December 2022 Watch the Governor's speech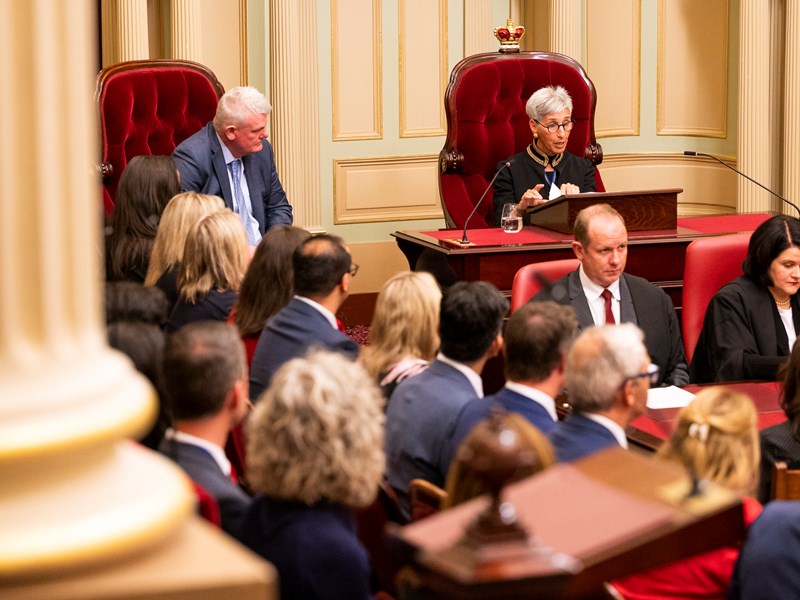 A day of tradition and protocol culminated in the official opening of the 60th Parliament of Victoria.
Governor Linda Dessau delivered a speech outlining the state government's policy agenda and legislative intentions over the next four years.
'This parliament is diverse and offers a range of different perspectives, which is critical for the functioning of democracy,' she said.
'I trust that you will work together and serve the people of Victoria with integrity and conviction.
'It's now my pleasure to wish you well and to declare open the 60th Parliament of Victoria.'
Newly sworn members from both houses of parliament gathered in the Council chamber to listen to the speech.
This is the only time the three elements of the parliament (Governor representing the Crown and MPs of both the Legislative Assembly and Legislative Council) come together in the same place.
The Governor had earlier received a traditional welcome from Wurundjeri man Thane Garvey, who performed a Smoking Ceremony on the front steps.
A significant day in the lives of all members of parliament, new or returning, their family and friends gathered for the rare and grand occasion.
The ceremony started with a traditional Welcome to Country given by Thane Garvey in Queen's Hall.
MPs moved to their respective chambers where they were officially sworn-in by taking an oath or affirmation promising to be loyal to King Charles III.
Presiding Officers were also elected to oversee debate in the Legislative Council and Legislative Assembly.
Once these extraordinary proceedings concluded both houses commenced the work of the 60th Parliament by holding a sitting, including question time.
* Photography by Nico Keenan and Janusz Molinski