Art of the Andes on show at Parliament
1 June 2023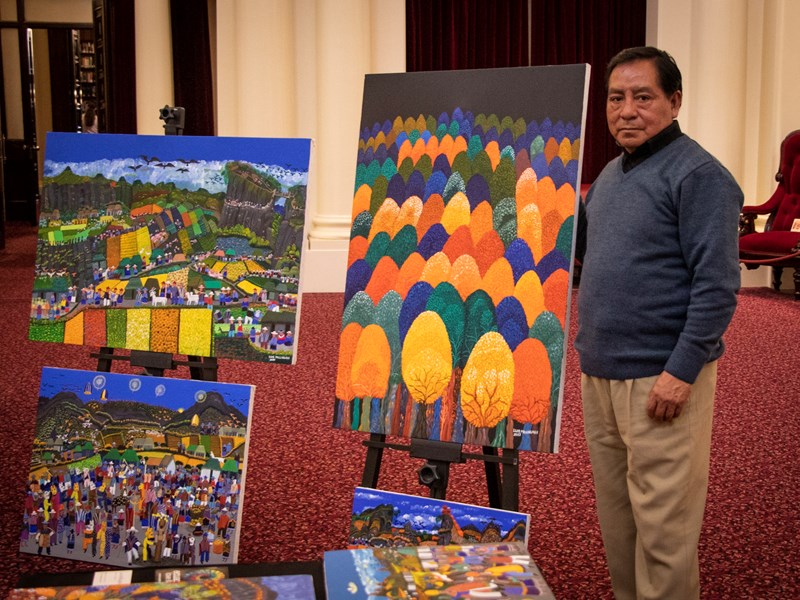 The beauty of the Andes mountains has been showcased at Parliament House in an exhibition of works by Ecuadorian artist Juan Luis Millingalli Tigasi.
'My artworks have been inspired by my culture, portraying the origin of my identity and the spirit of my people,' Mr Millingalli said.
Encouraged by a teacher who praised his drawings when he was a child, Mr Millingalli held his first art exhibition in Ecuador at the age of 17.
Since then he has exhibited in various countries around the world including Austria, Brazil, France, Spain, the United Kingdom and the United States.
Titled 'The Andean Culture, Mountain of Flowers and Forests', the exhibition at Parliament House was held over a four-day period during a sitting week.
'I have crossed borders to make the world aware of the richness of our culture and ecology, so all the countries that I have visited can learn more about our roots, traditions and the beauty of our forests, mountains, rivers and waterfalls,' Mr Millingalli said.
'I want to awaken in the observer the responsibility of care and protection.'
The staging of the art exhibition in Queen's Hall was arranged with the support of Sheena Watt MP, Member for Northern Metropolitan Region in the Legislative Council.
'I'm proud to be able to celebrate global Indigenous cultures and world renowned Ecuadorian Indigenous artist Luis Millingalli who has been showcasing to the world and here in our Parliament the richness of his culture and his country's ecology,' Ms Watt said.
'I encouraged all Members to visit the exhibition and experience the beauty and richness of his globally significant works.'