Community toolkit launched
13 April 2022 View community toolkit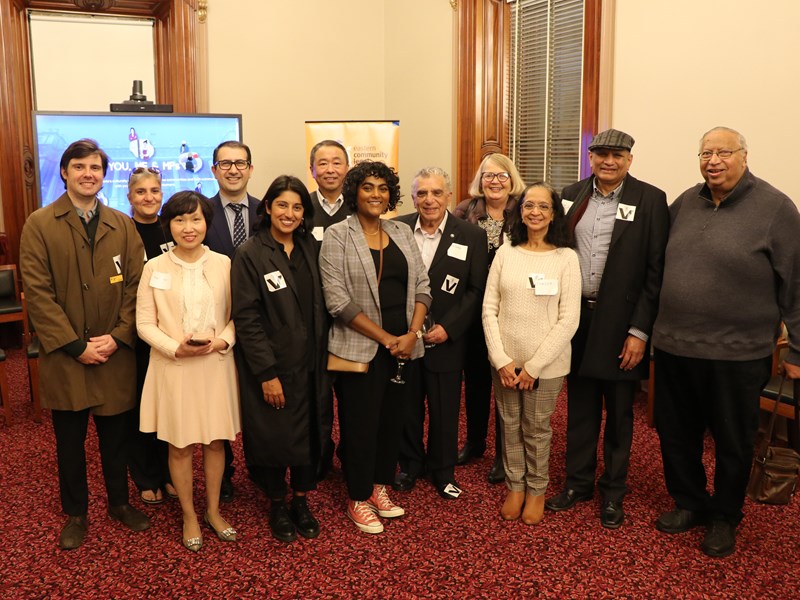 A new online community toolkit about Parliament has been launched by Legislative Council President Nazih Elasmar.
The toolkit, You, Me and MPs, was developed as part of the Engaging Communities in Democracy project, coordinated by Parliament's community engagement team in partnership with the Eastern Community Legal Centre (ECLC) and a Community Advisory Committee comprising representatives of diverse communities from Melbourne's eastern metropolitan region.
Available at vicparl.news/toolkit, the new resource includes a range of videos that explain our parliamentary system and that share the experiences of community members. The main video has been translated in 10 languages.
In developing the toolkit, consultations were undertaken with local MPs and electorate officers.
'I congratulate everyone who has worked on this project because all of you have created a valuable and practical resource that will help increase understanding of Parliament in our community and help to make it more accessible to a diversity of people,' Nazih Elasmar said at the launch.
'At a time when democracy is under threat in many places around the world, I am proud of our Parliament's efforts in partnership with Victoria's diverse communities to open up and enhance democracy through projects like this,' he said.
Alongside the development of the toolkit, the Engaging Communities in Democracy project included community consultations with committees, online community forums with MPs and participation by Advisory Committee members in providing community feedback on Parliament's new website.
'We are so pleased to have partnered with Parliament on the Engaging Communities in Democracy project and believe the toolkit will help the communities feel more included and better equipped to understand the parliamentary system,' ECLC Chief Executive Michael Smith said.
'ECLC are grateful to have had the opportunity to connect with and learn from diverse leaders across CALD and faith communities in this important step forward in fostering good community relationships and inclusion, while supporting these communities to advocate for issues they identify locally.' he added.
The Advisory Committee was made up of representatives from the following communities and organisations: Chin Community Victoria, Bohri Dawoodi Muslim faith group, Bahai Assembly, Zorastrian faith group, Hindu faith group, Indiancare, Bounce refugee mentoring program, Chinese Health Foundation, Zomi community, Whitehorse Interfaith Network, Maroondah Interfaith Network, Manningham Interfaith Network and Boroondara Interfaith Network.
To maintain the momentum of the project, the community engagement team is working with the ECLC on a leadership program for CALD community members.