Tools for tradies to have tough conversations
22 February 2023 Lifeline 13 11 14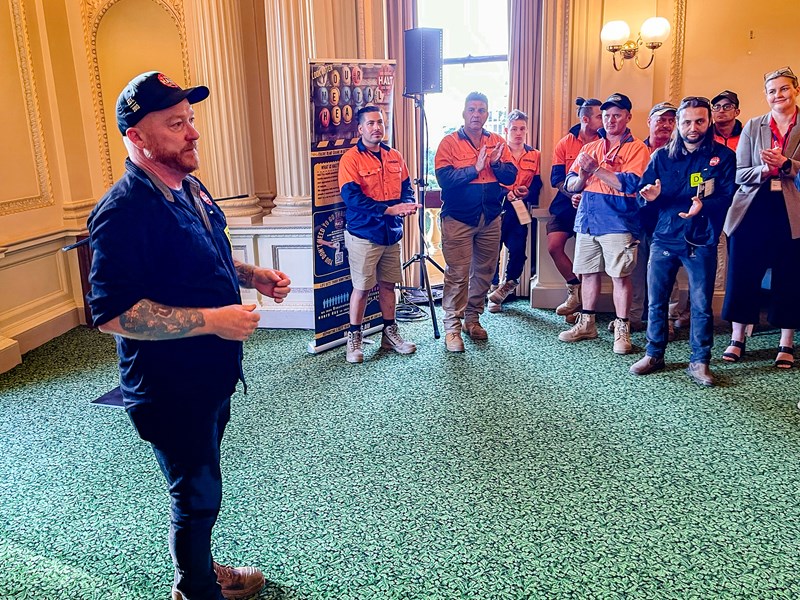 Nine Australians suicide every day and 75 per cent of them are men.
Jeremy Forbes is taking his powerful message of mental health awareness to communities and construction sites across Victoria.
" 'We lose hundreds of our brothers and sisters each year.' "

Jeremy Forbes, HALT co-founder
The painter and decorator co-founded HALT (Hope Assistance Local Tradies) 10 years ago.
'I want to empower you; I want you to understand that you can access help,' he said, at a Parliament House breakfast on Wednesday.
'Everyone in this room has mental health and it can affect anyone regardless of what suit you're wearing, what high vis you're wearing, it doesn't discriminate.'
Mr Forbes wants to end the shame and stigma long associated with mental illness in trade professions.
'I get the culture. I've lived it, I've breathed it and I come from a lived experience,' he said.
'You have my heart; you have my empathy, and you have my compassion because I also have an ongoing battle with mental health and thoughts of suicide.'
HALT's unique prevention campaign is primarily aimed at tradies across industrial sites, hardware stores, sporting hubs, men's sheds, local council depots, TAFEs and emergency services.
Potentially lifesaving resources, including companion cards with links to support services are delivered to workplaces and employees across the state.
Legislative Assembly Speaker Maree Edwards praised Jeremy's passion and determination.
'He has worked extremely hard over many years to expand the offering of HALT,' Ms Edwards said.
'Backed in now by analysis and research from Swinburne University HALT has become well recognised across industries, workplaces and communities for connecting local tradies to mental health supports.'
The breakfast was also attended by Legislative Council President Shaun Leane, other MPs, parliamentary staff, stonemasons and construction workers involved in the refurbishment of the East Wing at Parliament House.
If you or someone you know needs help, call Lifeline 13 11 14.