Historic transition at parliamentary sitting
13 September 2022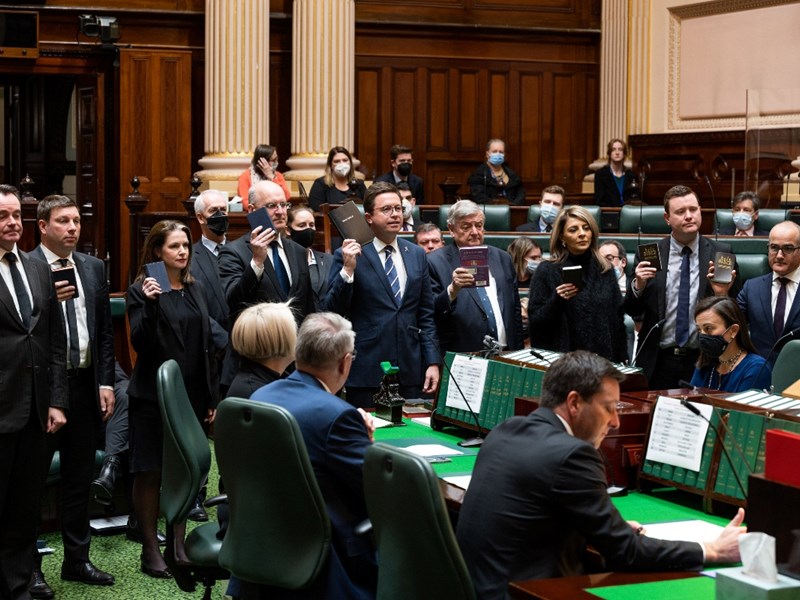 The transition to a new monarch continued during an historic sitting of the Victorian Parliament.
Members of Parliament in both houses were re-sworn, taking oaths and affirmations of allegiance to His Majesty King Charles III and His Majesty's heirs and successors.
Two Commissioners were appointed by the Governor of Victoria to conduct the swearing in. The Honourable Justice Karin Emerton, Acting Chief Justice and President of the Court of Appeal, conducted the swearing in for Legislative Council members and the Honourable Justice Phillip Priest, Judge of the Court of Appeal, conducted the swearing in for Legislative Assembly members.
Following the swearing in, members in both houses spoke to condolence motions in remembrance of Her late Majesty Queen Elizabeth II.
'As we mourn the end of her life with profound sadness, we also celebrate that life and look to what she taught us, the great example that she set, the great work that she did and the fact that despite not choosing her role, she made it her own,' Premier Daniel Andrews said.
'Through it all she taught us how to go about our business with unruffled dignity. She told us that even a Queen can have a bad year or a horrible one, and then she showed us how to stay the course, how to keep calm and carry on as a figure of strength, as a figure of duty, as a figure of service. Vale, Queen Elizabeth II,' he said.
Opposition Leader Matthew Guy said that the passing of Her Majesty is an immensely sad one.
'She was an extraordinary person with an extraordinary life, a life that was played out from the very start in public, but a person who became such a symbol of stability to many nations, including ours,' he said.
'And she was warmly loved by this nation too.'
At the conclusion of the condolence motions, members in both houses observed a minute's silence before adjourning as a mark of respect for the late Queen.
Read all of the condolence speeches in the Hansard for 13 September 2022.
Photos: by Janusz Molinski Photography