Horticulture's growth on show
3 September 2022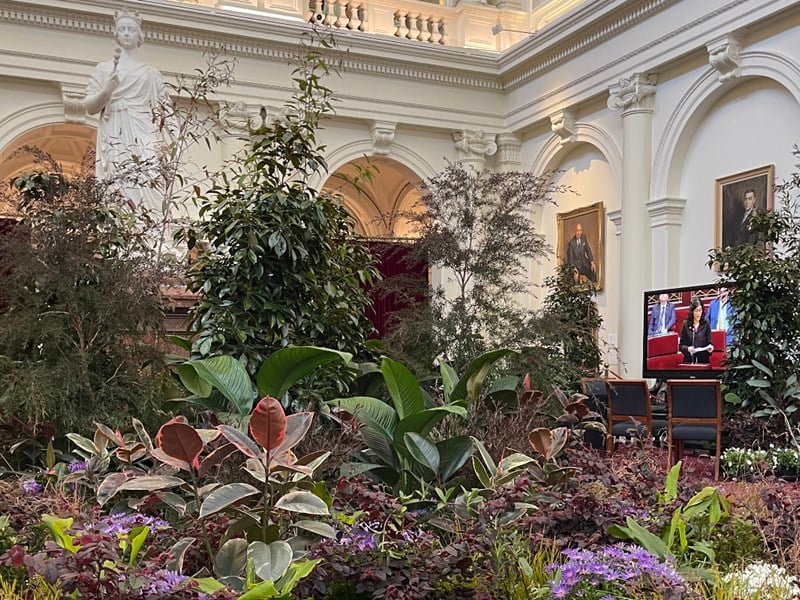 The contribution of the horticulture sector to the Victorian economy has been highlighted during a showcase at Parliament House.
Queen's Hall was transformed over the past week with a range of industry representatives taking part in the Victorian Annual Horticulture Showcase.
"The stats project has shown what a large industry horticulture has become in Victoria with a value of over $2.5 billion and employing over 25,000 people," said Simon Gomme, President of Nursery and Garden Industry Victoria, the peak industry body for the state's horticultural sector.
Showcase participants spoke about their passion for the sector and their hopes for its future.
"It's a really good industry and I would like to see it continue to grow and be more highly regarded," said Sarah Burgess from Ausflora Pacific.
Others highlighted the benefits the sector brings to Victoria.
"The showcase is important to raise awareness of the industry and what it's doing for the economy," said Bonnie-Marie Hibbs from Plants Management Australia.
"We're a very big part of the Victorian economy and we grow everything right here in Victoria, something we're very proud of," said Ryan Cotter from Anco Instant Turf.
Showcase participants (left to right): Simon Gomme, Sarah Burgess, Bonnie-Marie Hibbs and Ryan Cotter.