Big impact in small spaces
19 May 2023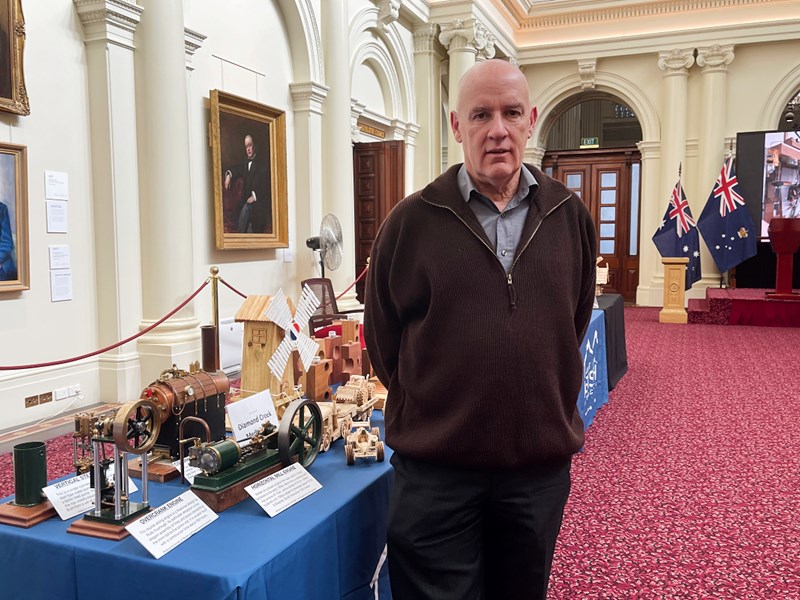 Men's sheds from around the state have showcased their work at Parliament House to raise awareness of the positive impact they are having on Victorian men.
'Everyone thinks of men's sheds as being a place where old guys go and do woodwork. In a lot of cases they do, but they do much more than that,' said Derek O'Leary, CEO of the Victorian Men's Shed Association.
Alongside woodwork, some do metalwork, picture framing, car restorations, toy and model making, cooking and photography, while some have music, bands and choirs, he noted.
Mr O'Leary represents the advocacy group for over 330 men's sheds across Victoria and he wants Victorians to know just how diverse the organisation is becoming and why it plays such a vital role.
'We're here to make government and all the politicians aware of the work we do and enforce the fact that we are underutilised too. There's great potential for us to do more with government and help in areas of health and mental health as well,' he said.
According to the Australian Government's national men's health strategy, 17% of men in Australia have self-reported a case of mental illness. Mr O'Leary said the focus on mental health within the association is necessary, especially for younger men.
'We're trying to encourage some of the sheds to embrace those young guys in the local community who might want to come in,' he said.
'There is a huge impact on positive physical and mental health, because we are all about keeping guys active and out of the house – staying fit both physically and mentally.'
And the impact in Queen's Hall was clear to see. Men's sheds from around Victoria contributed handmade items reflecting deeper connections made within their communities.
'We've tried to get a bit of a diverse mixture from around the state,' Mr O'Leary said, with displays from Melbourne suburban areas such as Bayside and locations further afield, such as Ocean Grove and Goulburn Valley.
'Horsham Men's Shed for example do a lot of work with kids up there and make the rocking horses and the toys. Rowville Men's Shed also make fire engine models for the CFA which have used them to do training with the kids,' he said.
According to Mr O'Leary, the goal is for men's sheds to be an example of positive local action and one with real influence. This of course could not be achievable without the members across the state who run the sheds.
'What they all do is get people out of social isolation, they get them out of their home and into a shed socialising with other men,' he said.
And he encouraged men of all ages to get involved with their local men's sheds.
'Predominantly our demographic is older guys that are retiring or retired. But having said that there are younger guys in some sheds as well – and that is an area we hope to expand,' he said.
Visit www.vmsa.org.au for more information.
About the Author

Callum McNaught
Currently a youth associate at the Parliament of Victoria, Callum McNaught participated in the inaugural Parliament Express program for young writers in 2022.