Date set for opening of new parliament
13 December 2022 Opening of the 60th Parliament of Victoria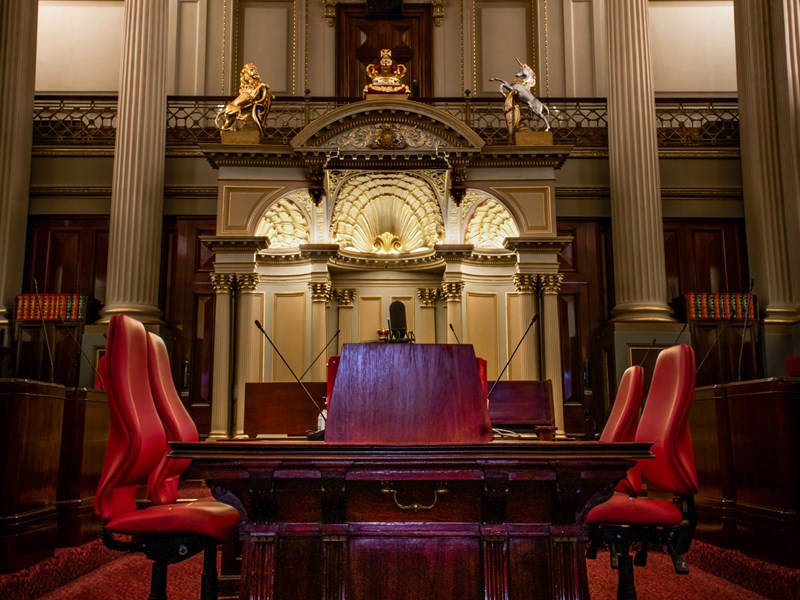 The 60th Parliament of Victoria will be officially opened on Tuesday, 20 December 2022.
Steeped in tradition, you can watch the live broadcast of this momentous occasion from 10 am.
The day will begin with a Welcome to Country to be given by Wurundjeri elder Aunty Joy Wandin Murphy.
Shortly after, the swearing-in of members of parliament will take place. There will be *87 MPs in the Legislative Assembly and 40 MPs in the Legislative Council.
A vote on Presiding Officers for each House of Parliament will follow. Members elect a Speaker and their deputy for the Legislative Assembly and a President and their deputy for the Legislative Council.
After a break for lunch Her Excellency the Honourable Linda Dessau AC, Governor of Victoria will arrive at the front steps of Parliament House to be greeted by the Usher of the Black Rod, Sally West.
This will be the first time a female Usher has coordinated the opening of a Victorian Parliament.
" 'I consider it a real privilege to be the first female Usher of the Black Rod here in Victoria,' "

Sally West, Usher of the Black Rod
'We'll also have a female Governor and a female Clerk of the Parliaments, so I'm in some really good company for the opening of the 60th parliament.'
The Governor will take her place in the Legislative Council and the Usher will proceed to the doors of the Legislative Assembly chamber, knock three times with the Black Rod and request the members' attendance in the Council.
'This tradition really signifies the independence of the two Houses,' Ms West said.
Once all of the members have gathered in the Council chamber the Governor will deliver a speech, outlining the government's plans for the next four years.
'This is the only time in the parliamentary cycle the Governor representing the Crown, members of the Assembly and members of the Council meet in the same place,' Ms West said.
The Parliament is then formally declared open, and each house can respond to the Governor's speech by way of an Address-in-Reply.
At the conclusion of these extraordinary proceedings both houses will hold a regular sitting of parliament, including question time.
You can read more about the opening of parliament, including the full program on our website.
*There are normally 88 members sworn into the Legislative Assembly, however the result of the election in the district of Narracan has been deferred.