Parliament House opens to educators
24 April 2023 Visit the Teach and Learn webpage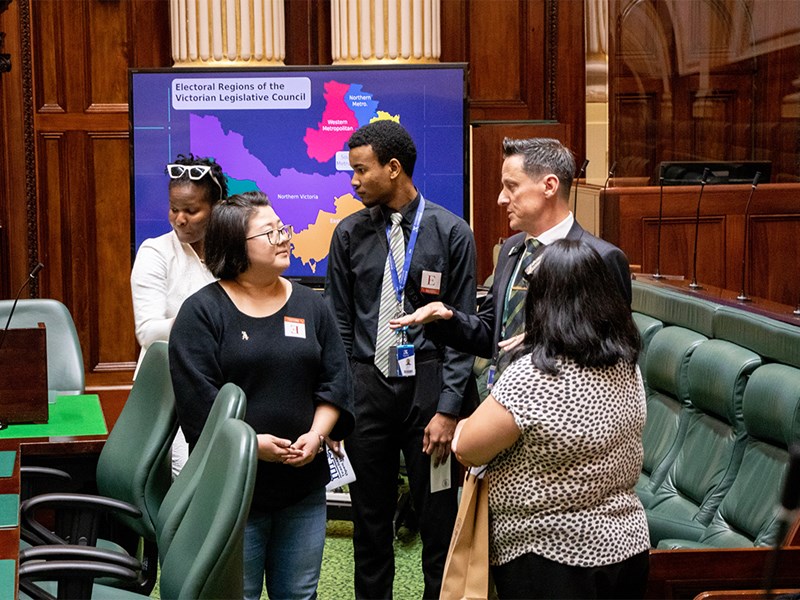 Over 100 teachers visited Parliament House last week to take part in Teacher Open House, a new initiative of the Victorian Parliament that aims to strengthen connections with teachers and support civics and legal studies in the classroom.
The event was attended by teachers from across the education sector, including Early Years, Primary and Secondary teachers, as well as pre-service teachers. Participants were invited to explore Parliament House in a relaxed and informal atmosphere and engage with staff who were on hand to share insights about the work of parliament and answer questions.
The event was an opportunity to showcase the experiences, programs and resources made available by parliament, including tours, online incursions and school visits, as well as the broad range of support materials featured on the parliament's new Teach and Learn webpage.
One of the highlights of the event was the opportunity for teachers to network with one another and share their ideas and experiences. While familiarising themselves with key spaces inside Parliament House, teachers considered new ways to introduce students to the work of parliament, and strategies for strengthening student voice and civic engagement
Attendees welcomed the opportunity and praised the event for its informality and the chance to interact with other passionate educators. For parliament staff, Teacher Open House is also a chance to talk directly with teachers, to discuss their needs and receive feedback that will inform the ongoing development of education programs and resources.
This is the second Teacher Open House event hosted by parliament, with plans to offer further opportunities later this year and in 2024.
Follow @VicParlEd
We're pleased to announce the launch of our new Parliament of Victoria education Twitter account. Follow us for updates on civic education, classroom resources, opportunities to engage with parliament and more.
Find us on Twitter