Parliament Prize leads to local action
1 August 2022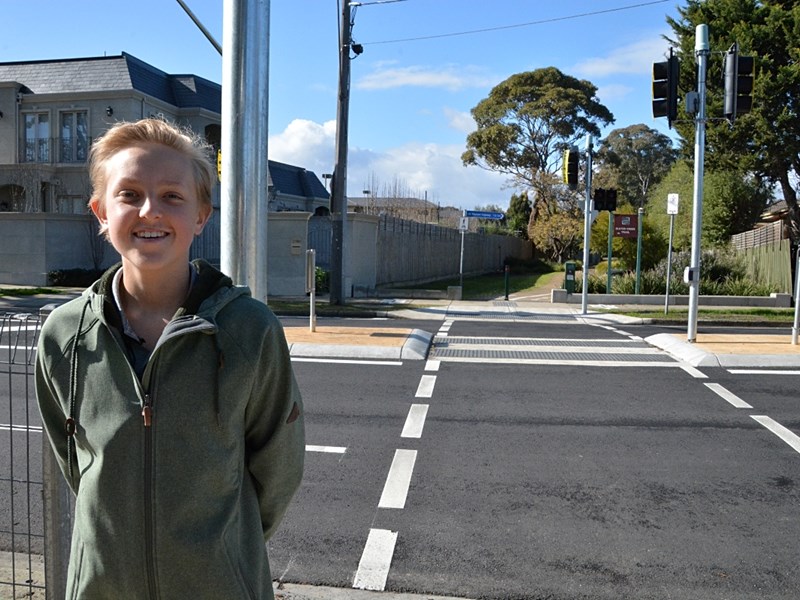 One student's winning entry in last year's Parliament Prize competition has helped to address a road safety issue.
Brighton East teenager, Flynn Megahan, identified a community need. A point at a busy road between the boundaries of the Bayside and Glen Eira councils was regularly used by the community, but the lack of a proper pedestrian crossing meant that accessing it was risky.
While remote schooling in 2021, Flynn heard about Parliament Prize - the chance for Victorian school students to tell parliament about something that matters to them in a 90-second 'Member's Statement'. He thought this was the ideal platform to get some attention for the issue.
'The Parliament Prize was the perfect opportunity for me to express my passion for my community and to get this fixed,' Flynn said.
He scripted his video and gathered a team of family members and neighbours to film his entry.
Flynn was judged the winner in the 2021 years 7 to 9 category. 'When I got the call from parliament I was elated to get that news. I was jumping around,' he said.
The issue then came to the attention of the two local councils which are now working together to install the signalised crossing.
'There are other kids out there who can do this. I'm just a regular 14-year-old boy. There are loads of people out there who can help their community. The best thing to do is to speak up. Use things like the Parliament Prize to really get your message out there, just like I did.'
Winners of the 2022 Parliament Prize will be announced soon.