Presiding Officers elected
20 December 2022 Opening of Victoria's 60th Parliament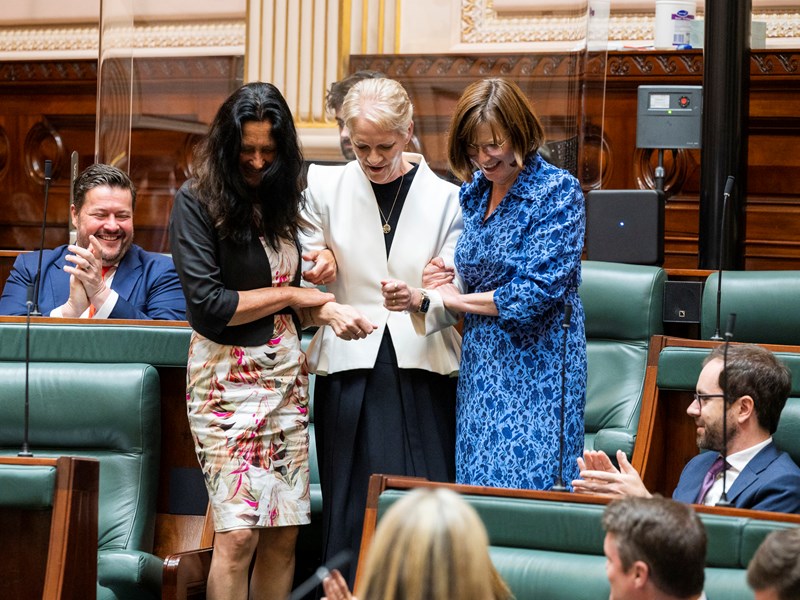 Member for Bendigo West Maree Edwards has been elected Speaker of the Legislative Assembly.
Ms Edwards previously served as Speaker from August 2022 and Deputy Speaker since March 2017.
'When I was elected Speaker for the last few weeks of the 59th Parliament I mentioned that I was only the fourth woman to be Speaker in the long history of this place,' she said.
'In acknowledging that history I am also thrilled to be the first woman re-elected as Speaker.'
In keeping with tradition, she was escorted to the chair by her supporters.
'For a girl who grew up in Maryborough in regional Victoria... I never dreamed of being a member of Parliament, let alone Speaker. I hope I have made my family and my home town proud.'
Member for Ashwood Matt Fregon is the Deputy Speaker. He served as Deputy Government Whip in the Assembly from 2020-2022.
In the Legislative Council, Member for North-Eastern Metropolitan Region Shaun Leane has returned to the President's chair.
" 'The Presiding Officers are very important positions, and I intend to take it seriously,' "

Shaun Leane, Legislative Council President
Mr Leane previously held the role from 2018-2020 before taking on various ministerial portfolios.
'I have thought about this, and I know I can be a better President, not just in the chamber, where I believe I can improve, but also in the important role that the President plays outside of this chamber,' he said.
His deputy will be Member for Northern Victoria Region Wendy Lovell.
She also served as Deputy President of the Council for the entirety of the 59th Parliament of Victoria.
* Photography by Nico Keenan and Janusz Molinski