Prestigious award for PHOTO festival
24 November 2022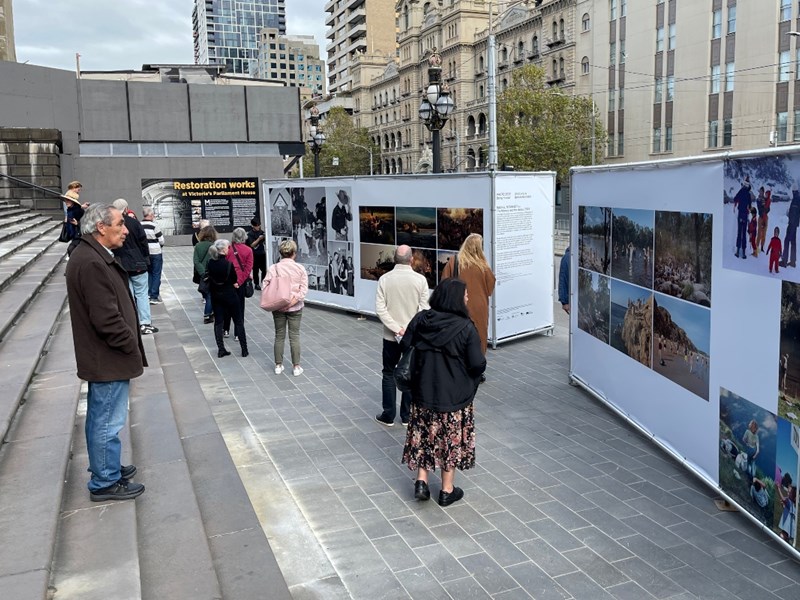 The PHOTO 2022 International Festival of Photography, that featured an installation at Parliament House, has won the Melbourne Award for Arts and Events.
Now in its 20th year, the Melbourne Awards are the City of Melbourne's highest accolade, celebrating the inspirational Melburnians who dedicate their time and energy to making Victoria's capital a world leader.
PHOTO 2022, held during April and May in Melbourne and regional Victoria, was produced by Photo Australia in collaboration with over 50 cultural institutions, museums, galleries and universities.
'It is an incredible honour for PHOTO 2022 to win the Melbourne Award for Arts and Events, and to be acknowledged for how the festival brought the city alive with photography and visual art in collaboration with cultural, education and government partners,' said the festival's artistic director Elias Redstone.
​Across 90 exhibitions, 123 local and international artists' work was featured in an exploration of one epic theme: Being Human.
The festival also saw 24 artists commissioned to create new works with large-scale artworks presented on the streets of Melbourne outside iconic buildings, including the Parliament of Victoria, State Library Victoria, St Paul's Cathedral and Old Treasury Building.
'For the second year running, Photo Australia has proudly worked with the Parliament of Victoria to commission new photography by acclaimed artists that speaks to the experience of living in Victoria today,' Mr Redstone said.
'Presenting this artwork on the steps of Parliament House not only celebrated the important role this site plays in the city, but also supported Melbourne's reputation as Australia's cultural capital, with images of the artwork broadcast in Australia and around the world on social media.'
The installation on the Parliament House steps was produced by Oculi, a collective of award-winning photographers offering a visual narrative of contemporary life in Australia and beyond. It featured the work of photographers Alana Holmberg, Abigail Varney, Rachel Mounsey and James Bugg.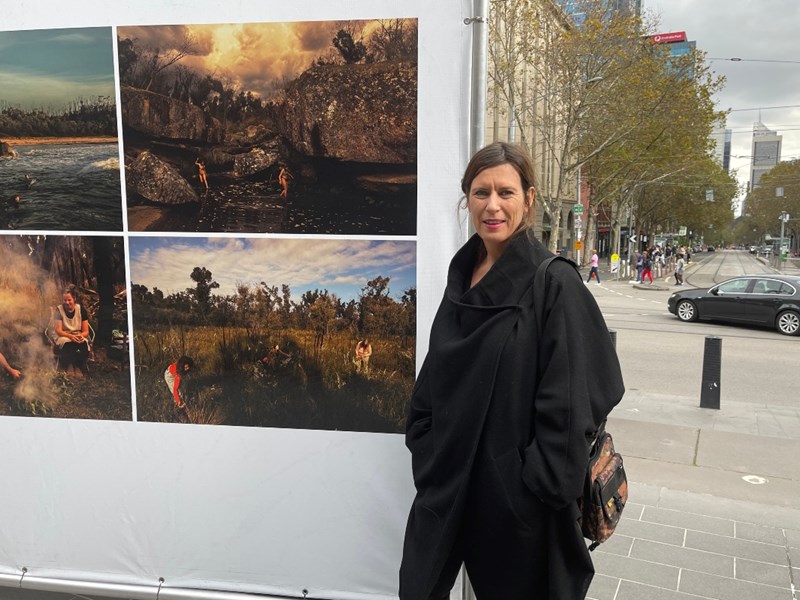 For the festival they brought the landscapes and meeting places of regional Victoria to the heart of Melbourne.
'At PHOTO 2022 the artworks outside Parliament House connected with a trail of art installations that ran along Spring Street from Parliament Gardens Reserve to the Old Treasury Building, for many a highlight of the whole festival,' Mr Redstone said.
To watch interviews with the four Oculi photographers, go to: Photo installation explores gatherings
Some of the works featured in PHOTO 2022, including the Parliament House installation, can be seen on a virtual tour.