Students' convention returns to Parliament
18 May 2022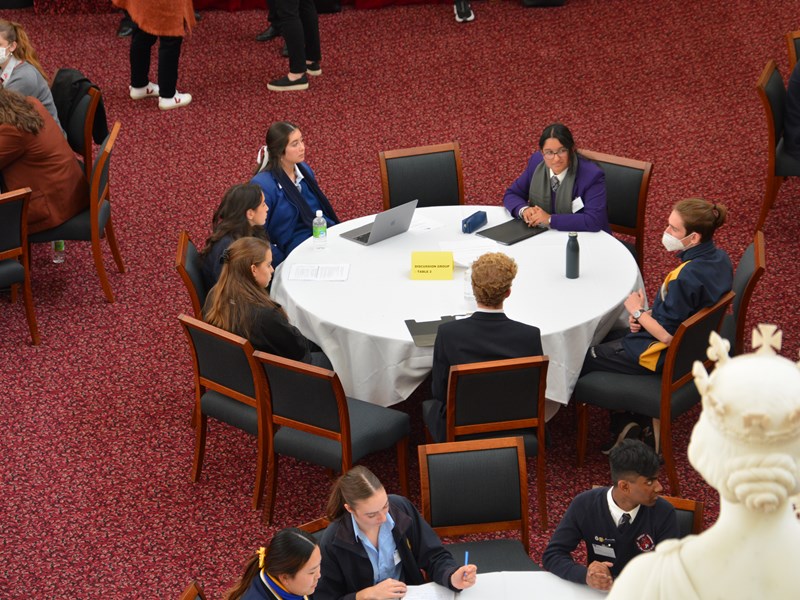 After a two-year break, the Victorian Students' Parliamentary Program has returned to Parliament House.
Secondary students from 12 schools across Melbourne came together to discuss whether or not Victorian courts should continue to hold judge only trials.
The program, a collaboration between the Department of Education and Training and the conference convenors from the National Curriculum Services, gave each school two minutes to present their opening statements.
It was very clear from the introductory speeches that the majority of students had taken the position that trial by jury was a fundamental part of the Victorian judicial system.
The students heard from two keynote speakers, Associate Professor Jacqui Horan and Dr Felicity Gerry QC.
Associate Professor Horan presented a mock trial and discussed the benefits of juries, while Dr Gerry offered some different perspectives from her career working on a range of criminal cases in Australia and overseas.
The discussion groups, reporting-back and soap-box sessions afforded students an opportunity to present their arguments, mostly still in favour of retaining trial by jury.
Many students cited the need to protect defendants against judges' biases as a reason to keep juries, and that 'to clear the backlog of cases due to covid' was not a sufficient reason by itself.
Despite a couple of compelling arguments for keeping judge only trials in certain circumstances—such as high-profile cases where juries may have pre-determined verdicts—there was a clear majority against the bill which was defeated 42 to 14.