Victoria leads nation on autism awareness, but still has way to go
20 June 2022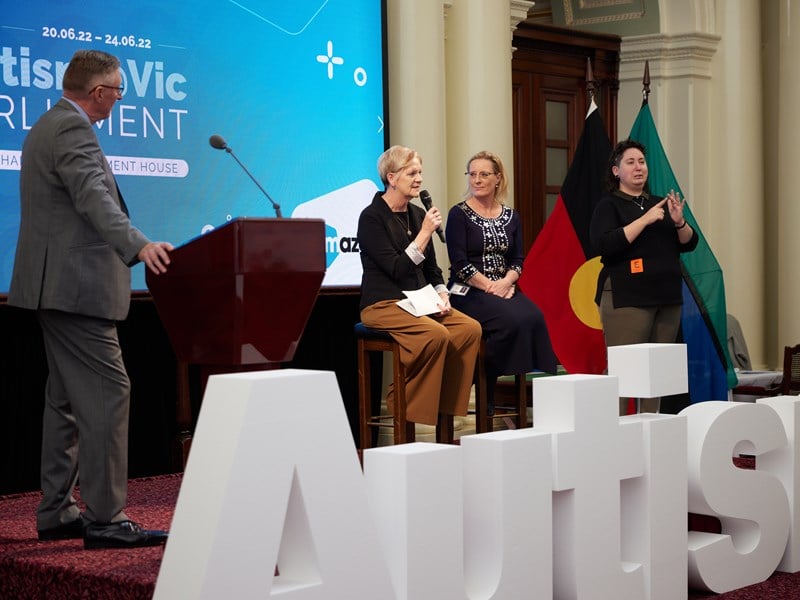 Life can be challenging enough for Tim Arendt, without the complexities of a global pandemic.
The 23-year-old has autism, and his NDIS support worker helps to solve some of his problems.
When Covid-19 struck they didn't always have the answers, but their guidance was more important than ever.
'They were able to talk me into a more optimistic mindset so that even though they couldn't find a solution to the problem, I had a better outlook on it, which was more beneficial to my mental health,' Mr Arendt said.
He was speaking at the launch of a unique, week-long event at Parliament House, the first of its kind, aiming to raise awareness of autism spectrum disorder.
Amaze, a peak body for autistic people in Victoria has 'taken over' Queen's Hall and is meeting with Members and Ministers to discuss the progress of the Victorian Autism Plan.
The plan was revamped in the wake of the Victorian Parliament's nation-leading inquiry into services for people with autism, which was held five years ago.
The 18-month long inquiry chaired by Bendigo West MP Maree Edwards made 101 recommendations primarily related to early diagnosis, intervention and treatment.
'The core of the inquiry for me was acknowledgment that the state autism plan needed to be updated,' she said.
'It provides a really good road map of where we are heading when it comes to autism.'
Member for Eildon Cindy McLeish deputy chaired the inquiry which heard from dozens of Victorians.
'It really was enlightening to see the very broad range of issues that were raised with us,' she said.
The inquiry drew attention to the prevalence of autism in young women and adults and provided a comprehensive framework with strategies to improve the quality of life for autistic Victorians.
" 'This is a celebration of Victoria leading the way in this country, around the development of policy, practice and services for autistic people.' "

Jim Mullan, CEO, Amaze
'But the reality is that we recognise we still have a long way to go and there's no doubt in terms of the execution and delivery of the plan that Covid has had an impact.'
Victorians with autism now have more school, employment, community engagement and recreation opportunities, however participation rates are not as high as advocates would like them to be.
'I think we need to call out the fact that for a section of our community who have the most substantial support needs it's very difficult to see them in the policy platforms that we've delivered up to now and I think that's something that with respect to the refresh of the plan we need to address as a matter of some urgency,' Mr Mullan said.
The mother of Disability Minister Anthony Carbines is a retired special schoolteacher and has instilled in him the importance of understanding every individual's potential and their capacity to play a role in society.
'Plans have their place, but it will be about the actions and our endeavors and I'm really keen to make sure that you feel that we're pressing forward on a lot of that,' Mr Carbines said at Monday's launch.
People who visit Queen's Hall (June 20-24) can take part in several activities including chat to an autism connect advisor and see the results of the new autism inclusion monitor.
'I think that the Victorian Parliament taking a week out of their time to focus on autism is a step in the right direction,' Mr Arendt said.
'I find that people are more accepting of our condition when they understand it, and this week is going to help raise that awareness.'