Bringing parliament to your classroom with online incursions
15 February 2023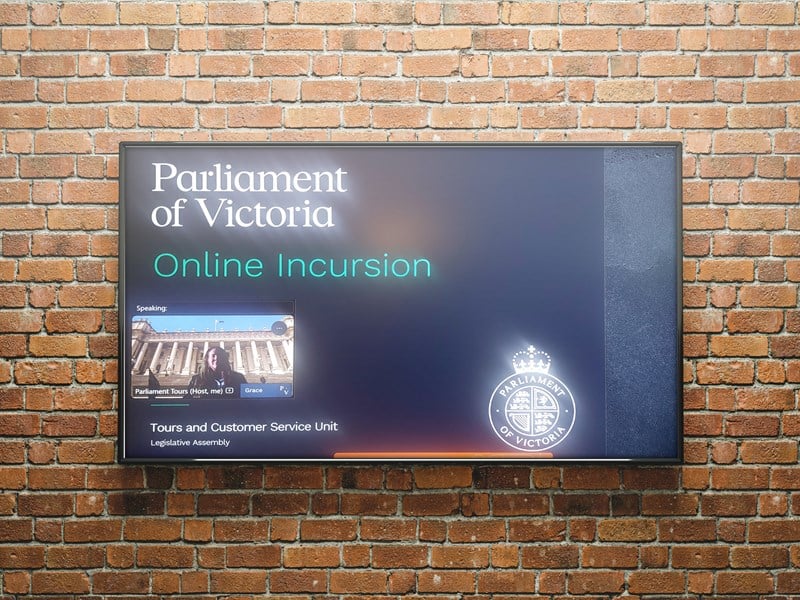 Getting to Parliament House for an excursion can sometimes be a little tricky, but that's okay because we have a fantastic alternative for you. Meet Grace and James, two of our Outreach Officers who can bring Parliament House into your classroom with an online incursion.
Like many online programs, parliament's online incursions were introduced during lockdowns as an alternative to the popular school tours of Parliament House. Though in-person tours have since resumed, the high level of demand for these online sessions has seen them retained as a permanent fixture in our offering for schools.

Grace and James are Outreach Officers in our Tours and Customer Service team. We recently sat down for a chat about their experiences running online incursions, what they've learnt and what opportunities these experiences offer teachers, to connect parliament to your classroom.


What benefits are there for teachers and students participating in an online incursion? 
Grace: Online incursions are a shorter experience (than a tour) which can fit nicely into a lesson while also giving students an overview of how a law is made in Victoria. It can be a great starting point for students beginning their unit or an excellent way for students to revisit and review the content at the end of a unit. Being in their classroom, students are also in an environment where they are comfortable, so they are often more relaxed and excited to participate.

James: It's a great opportunity for students to get a very quick understanding of how we make a law in Victoria. We guide classrooms through an interactive virtual tour of the parliament building and its legislative chambers and give them a chance to act as members of parliament, roleplaying speeches for or against a mock bill. Each session runs for about 30-40 minutes, and we enjoy visiting students in their classrooms all over Victoria. It's great that this is a free program, it's a nice way to complement the study of Civics and Citizenship for students across a range of learning levels.


What is your favourite thing about online incursions? 
Grace: My favourite part of the online incursions is getting to connect with a diverse range of students from across Victoria, many of whom would not have had the opportunity to come into Parliament House in Melbourne to visit us.  

James: At the end of our roleplay, we offer students a chance to ask questions about law-making in Victoria and they always delight me with their insight and enthusiasm for the process. Questions, such as "What is the oldest, newest or silliest law in Victoria?" keep me on my toes.  


What can teachers do to prep their students to get the most out of an online incursion? 
Grace: Teachers can prepare their students by getting their energy levels up and excited to learn about Parliament. Positioning students in the frame of the camera and in front of the screen is also helpful so we can see all their smiling faces.

James: We look to engage four students to roleplay as members of parliament; two for the lower house (Legislative Assembly) and two for the upper house (Legislative Council). So, if teachers can preselect and prepare our 4 "future members of parliament" and have them sit at the front of the room, it makes the process much smoother. Getting the rest of the class to think up some curly questions to ask at the end of the presentation is also great.


What's been the biggest learning for you, going from face-to-face to online engagement? 
Grace: Seeing yourself on the screen for the first time is a unique experience, but once you get over the initial shock it is easy to relax into the presentation. Using technology can also be tricky at times, but being flexible and patient is always helpful. One trick I've found to be the most effective is to get the students to come up to the microphone and camera if they are presenting or asking a question – all the better to hear and see them.  

James: As a stage performer I love to work with a live audience - it makes the back and forth of interacting with a group much easier to monitor and adjust to. The challenge for online incursions is to continue to ensure maximum engagement without relying on immediate feedback (or even occasionally sound). Of course, the technology is often a challenge as well. 


Our excursion prep activities may also be a useful way to introduce or recap some of the key concepts from your incursion.