Departments
Department of

Parliamentary Services

We provide the infrastructure and professional services that enable the work of the Parliament and 128 electorate offices around the state.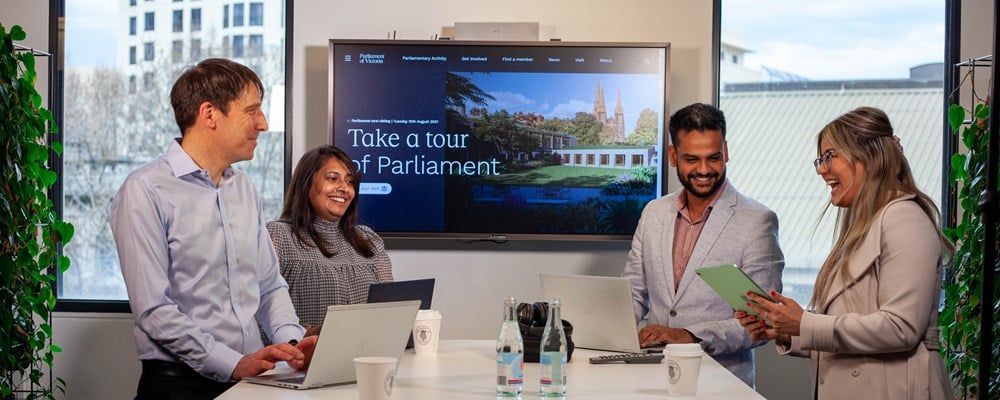 About the department
Responsibilities
Our teams supply and support technology, buildings, information services, human resources, catering facilities, security and financial management. Working behind the scenes we support the Legislative Council, Legislative Assembly and Parliamentary committees in their work.
We also provide resources, equipment and advice to help 128 members of Parliament fulfil their roles. Apolitical and service-driven, we work to protect the independence and integrity of the institution. We work to create a sustainable Parliament for current and future generations.
Our work
Our work can be seen in:
The high calibre people working at Parliament and in our electorate offices. We oversee hiring and professional development of parliamentary officers and electorate officers.
Our healthy, safe and cohesive workforce. This is achieved through the delivery of workplace safety, wellbeing and culture initiatives.
Our onboarding and training of new members, the professional development of current members, and the offboarding and transition support to departing members.
A mobile, flexible and data-driven Parliament achieved through a secure network, cloud-based IT systems and a responsive helpdesk.
Our high-quality public information resources, including Hansard, transcripts from public hearings and the Parliament of Victoria website.
Professional data, insights, research and information products and services provided by the Parliamentary Library to assist members.
Accessible, functional, safe, clean and secure Parliamentary buildings and electorate offices which allow constituents to engage directly with their local member.
Parliamentary precinct catering and venues, including a variety of dining and event options.
A robust financial environment with internal controls and systems that effectively mitigate risk, enhance accountability and protect the integrity of Parliament.
Our team
Trish Burrows, Secretary
The Secretary of the Department of Parliamentary Services, Trish Burrows, reports to Parliament's Presiding Officers: the Speaker of the Assembly and the President of the Council.
Matthew Smith, Deputy Secretary and Chief Information Officer
As Deputy Secretary and Chief Information Officer Matthew Smith oversees:
information technology and cyber security
Hansard
parliamentary library
records management
change management systems
member services.
Paul Pamio, Property and Precinct
Paul Pamio, Executive Director Property and Precinct is responsible for:
building and grounds services
catering and retail operations
property services
security services
major projects.
Adam Lane, Chief Financial Officer
As Chief Financial Officer, Adam Lane is responsible for:
finance and risk
pay services
procurement.
Tina Dimitriadis, People and Capability
As Director of the People and Capability unit, Tina is responsible for:
people services including recruitment and industrial relations
learning and development
work health and safety.
Catherine Wilson, General Counsel
As General Counsel, Catherine is responsible for:
policy compliance and governance
in-house legal advice.
Policies
A listing of organsiation policies can be found on our policies page.
We are in the process of adding to this list and will make more policies available as they are ready for publication.
Our policies