Public tour of Parliament House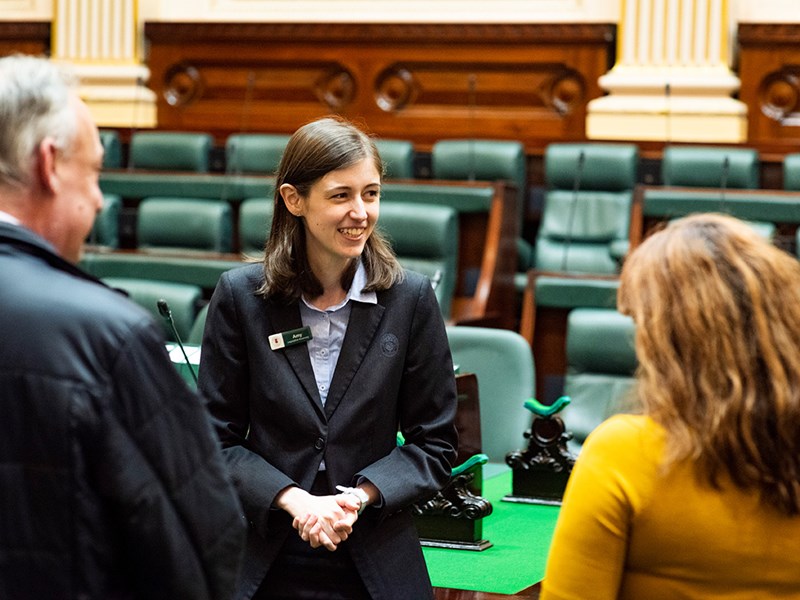 Explore this historically significant building, while learning more about the role, history and work of the Parliament.
Enter the Legislative Chambers where laws are made, and hear about the mystery of the stolen mace.
Learn about the Westminster style of Parliament while sitting in a Member of Parliament's chair.
Have your photo taken with Queen Victoria in the grand hall named after her and admire the portraits of past Premiers that adorn the walls.
Discover the Library that played a role in convincing the Federal Parliament to occupy the building from 1901 to 1927.
Our guides are happy to answer any questions you may have about the building, or the work that Parliament does and how you can get involved.
Dates and times
No bookings are taken for individuals or groups of five or fewer.
Tours run for approximately 50 minutes, and are held at 9.30 am, 12:00 pm, 1:00 pm, 3:00 pm, 4:00 pm on the following days:
non-sitting weeks – Monday to Friday.
sitting weeks – Monday and Friday.
Use our calendar to see what tours are running on the day you plan to visit.
Monday 27 March: 12:00 pm, 1:00 pm, 3:00 pm, 4:00 pm tours cancelled.
Tuesday 28 March: 9:30 am, 3:00 pm, 4:00 pm tour cancelled.
Wednesday 29 March: 9:30 am tour cancelled.
Thursday 30 March: 4:00 pm tour cancelled.
Tuesday 11 April: 10:30 am, 11:30 am, 12:30 pm tours cancelled.
Monday 24 April: 3:00 pm, 4:00 pm tours cancelled.
Wednesday 10 May: all tours cancelled.
We may alter or cancel tours at short notice due to functions and events at Parliament House.
Identification requirement
Photo Identification is required for public tours at Parliament House.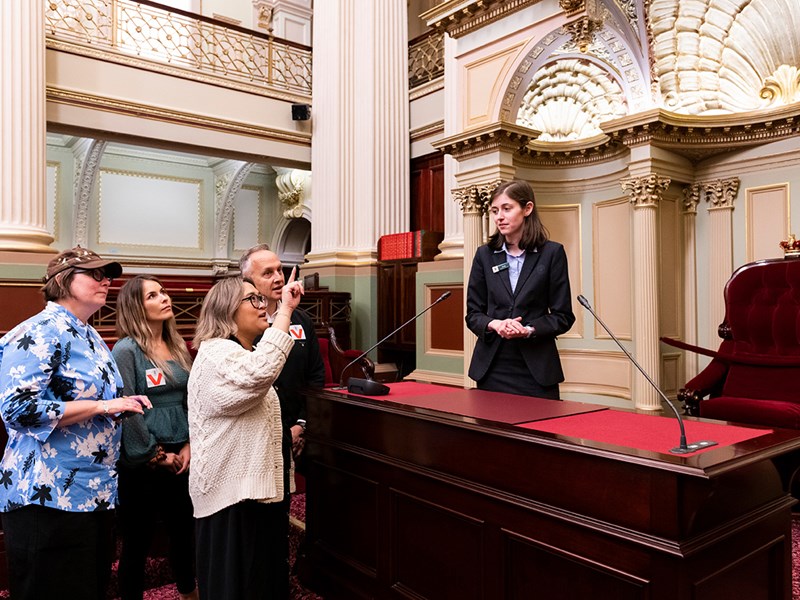 Group size
Numbers are limited to 20 people per tour.
Group bookings
For groups of six or more, find out more about our group tour.
Audio guides in your language
Free audio guides are available for use on our public tours. Click on the link below to access the guide in your preferred language:
普通话音频指南
Español
Italiano
हिन्दी
한국어
You can listen via the website or download the izi.travel app to your phone for free.
These guides are hosted on an external website and may include advertising or sponsors not associated with or endorsed by the Parliament of Victoria.