Garden tour of Parliament House
Join us for a free tour of these historic gardens to learn more about their evolution from Victorian-era roots to a modern Australian landscape.
Established in the 1860s, the Parliament House gardens are a classic example of late Victorian landscaped design, and act as an unlikely oasis at the top of Melbourne's CBD.
Dominated by Norfolk pines and Algerian oaks, the gardens are based on a William Guilfoyle design that allows visitors to meander through at a leisurely pace.
As well as learning about the history of Parliament and its garden, the experienced guide will show you highlights such as the oldest lawn bowls green in Victoria still in use, and the award-winning annex with its native rooftop garden.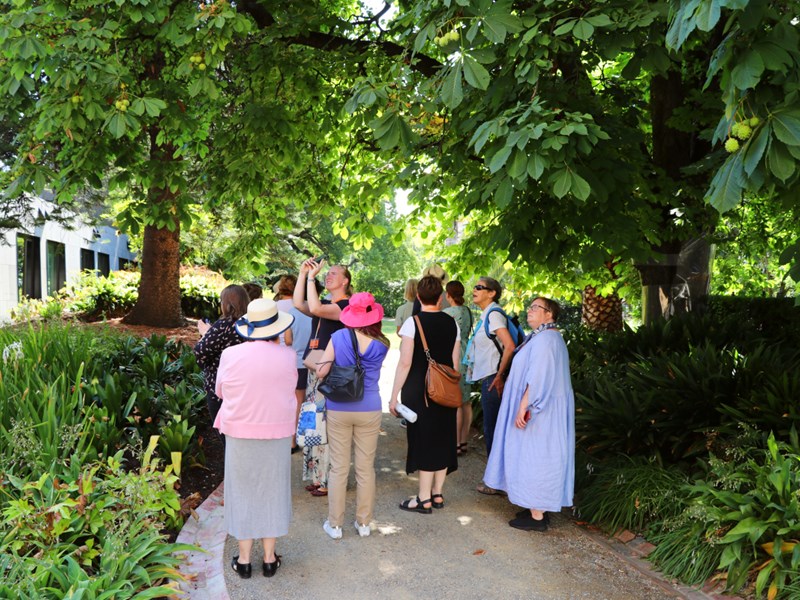 Date and time
Garden tours are available every second Friday. The tour starts at 2:00 pm and runs for approximately 90 minutes. Tours may be cancelled due to weather conditions.
17 February Garden Tour cancelled.
Please arrive 20 minutes before the tour start time to allow for security screening and check-in.
Group size and bookings
Numbers are limited to 20 people per tour.
Bookings are essential. To reserve a spot, call or email the tours booking office on (03) 9651 8568 or e-mail tours@parliament.vic.gov.au.
What to bring
As the tour is outdoors, please ensure you wear appropriate footwear, sunscreen, sunglasses, and bring hats or umbrellas depending on the weather.