Side Dining Room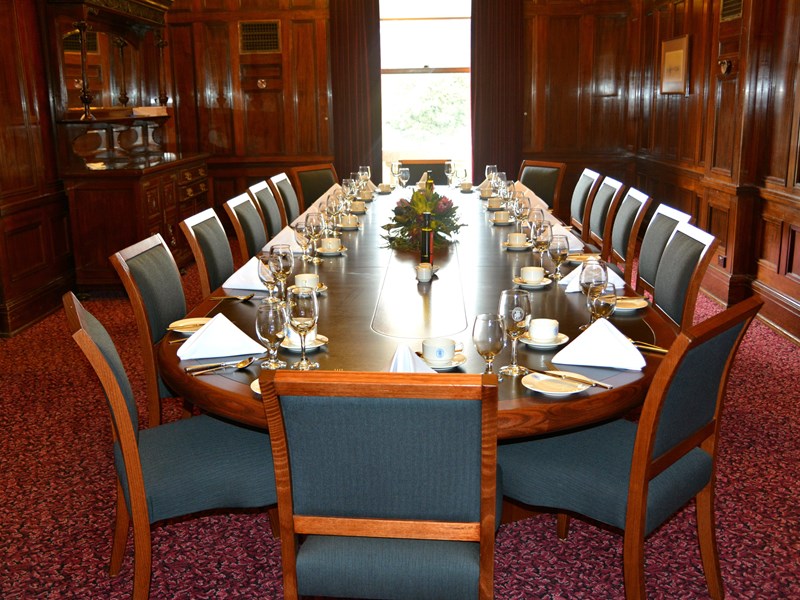 Warm and intimate. A smaller space for meetings or dining. Located on level two at Parliament.
This beautiful room, overlooking the gardens and St Patrick's Cathedral, is the perfect venue for a private dining experience or business meeting
Function types
Team workshops, meetings and conferences, breakfast, lunches or dinners.
Menu options
Download the menu options for this room below
Capacity
| Room set-up | Density 1:4/sqm | Density 1:2/sqm | No restrictions |
| --- | --- | --- | --- |
| Boardroom | 10 | 20 | 20 |
Bookings
If you would like to hold your event at Parliament of Victoria or make an enquiry, please complete the Function and Event Booking Enquiries Form
Make an event enquiry
Hours
Hours
---
Hours
8.30 am – 5.30 pm
Monday – Friday
Closed on weekends and public holidays
Address
Parliament House
Spring Street
East Melbourne Victoria 3002
Getting here
Getting here
---
Tours depart from the Vestibule, located inside the main building entrance on Spring Street.
Public transport
By train: exit Parliament station at Bourke Street.
By tram:
route 35 – stop 0 (Spring St/ Bourke St)
routes 86, 96 – stop 9 (Bourke St/Spring St).
Parking
There is no public parking at Parliament House.
Street parking and private parking is available in surrounding streets, but please note there is limited parking on Spring Street.
Identification requirement
Identification requirement
---
Anyone wishing to visit the Parliament of Victoria to attend a tour, use our catering facilities, attend an event or watch the proceedings of the two houses in the public galleries, must provide their name and address, and present one of the following forms of identification:
driver's licence
learner's permit
proof of age card
passport
Australian birth certificate
Australian citizenship certificate.
Security
Security
---
Visitors to Parliament House are required to pass through a security checkpoint before entering the building. This involves a walk-through scanner and baggage scanning. Visitors with pacemakers should ask to be scanned using handheld scanners.
Bags must be left at reception when taking part in a tour or sitting in the public galleries.
Items you cannot bring to Parliament
The following items are not permitted at Parliament:
weapons
any types of blades (e.g. Swiss army knives, lock knives, eating utensils), hooks, scissors and other sharps
liquids over 100ml and glass bottles (except water)
any alcohol
'selfie' camera sticks and camera tripods
chains and padlocks
voice recorders, two-way radios and speakers
handcuffs
any tools (e.g. screwdrivers, multi-tools, bike tools, measuring tapes, metal rulers)
helmets (e.g. bicycle and motorcycle)
whistles
permanent markers
aerosols
jet lighters
long umbrellas
balls and balloons
signs or placards
studded belts.
Any of the above items will be held by security for the duration of your visit. They will be returned when you leave or may be confiscated permanently in some cases.
More information
If you have any accessibility needs or concerns with security screening, please email security.team@parliament.vic.gov.au or call us on 03 8682 2980 ahead of time so we can accommodate your visit.
Accessibility
Accessibility
---
Accessible entrance
People with a mobility or physical disability can access Parliament House through the side entrance on Spring street or the rear entrance on Macarthur Street.
Map
Toilets
Accessible toilets are located on the ground level and level one.
Audio loop & Auslan Tour
Audio loops are available in the chambers. These can be used in conjunction with hearing aids.


Auslan videos are provided at locations on our public tours by scanning QR codes with your smartphone.
Social stories
Two social stories are available to accompany a visit to Parliament House. These have been designed for visitors who are neurodiverse who may like to read them in preparation for their visit. One is intended for readers of all ages, the other focuses on the experience of a school visit to parliament house.
Parents
Parents
---
A baby change and feeding room is located on level two on the Legislative Assembly side. Facilities include comfortable chairs, change table, basin with hot and cold water, a fridge, and a microwave.