Parliament House
Library
The parliamentary library was completed in 1861. It continues as a fully functional library used by members of Parliament and staff.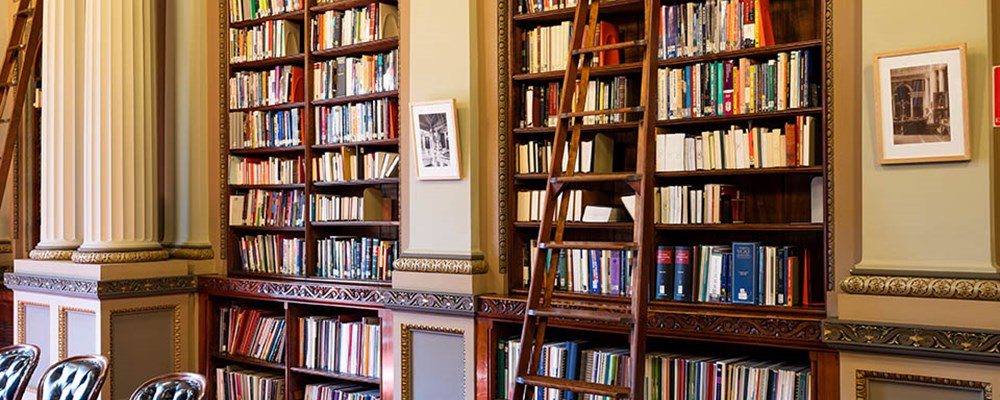 The library collection
The three connected rooms of the parliamentary library hold more than 50,000 books, and reports.
Upstairs, the Deakin Gallery displays just part of Parliament's extensive historical collection.
Services
Research and inquiries service for members of Parliament and their electorate officers, on behalf of their constituents.
Research papers on current issues that could form part of future legislation.
Briefs on legislation Parliament is considering.
Maintaining a database of media releases and news reports.
Architectural features
The central library fireplaces are made from solid brass, with the flues hidden in pillars. Once used to heat the room, the fireplaces were closed off in the 1950s.
A magnificent chandelier hangs from the centre of a glass dome. One of three that once hung in the Legislative Council Chamber, the chandelier was placed in storage in 1905 and only rediscovered in 1929. It is made from 2000 pieces of Belgian crystal and weighs 440 kilograms.
The first mace
The Parliament of Victoria's first ceremonial mace is kept above the main entrance. It is a highlight for most visitors to the library.
This mace was used 1857–66, then again 1891–1901. It was also used by the federal House of Representatives 1901–51.
It is made of wood and painted with gold leaf.
The Legislative Assembly still uses a ceremonial mace to represent the Speaker's authority.