Exhibition highlights decades of help for Victorians in need
21 June 2023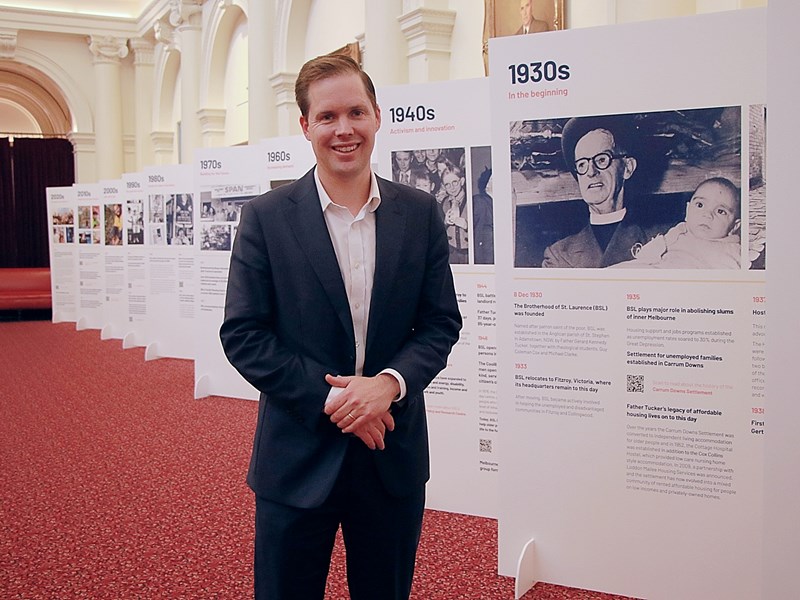 For more than 90 years the Brotherhood of St Laurence has been helping people who've fallen on hard times. 
An exhibition at Parliament House this week showcases that work in aged care and disability services, as well as the social justice organisation's work with refugees, young people and the long-term unemployed, not to mention the ubiquitous op shops and an online used bookstore.
'It's really an expo to reintroduce the Brotherhood of St Laurence to members of the Victorian Parliament and to members of the Victorian community who visit the parliament this week,' said BSL's Executive Director Travers McLeod.
'We're 93 years old, in nearly 90 locations across Victoria and the pandemic meant we weren't able to be around and present in communities so that people could understand more about what we do,' he said.
As well as providing services, the Brotherhood of St Laurence also engages in research through its Social Policy and Research Centre (SPARC).
The expo will see the launch of two new research reports produced by SPARC, one on digital access to the National Disability Insurance Scheme (NDIS) and another looking at BSL's work with women's economic security in Seymour.
'What we'd like to do as we look to our hundredth anniversary in 2030 is come up with ideas and service approaches that can cause a permanent reduction in the number of Victorians experiencing poverty and disadvantage,' Mr McLeod said.
The weeklong exhibition will also involve two panel discussions exploring ideas to help create a poverty-free Victoria and opportunities to increase social procurement to help get more vulnerable Victorians into jobs.