Democracy's way forward discussed at Melbourne conference
7 July 2022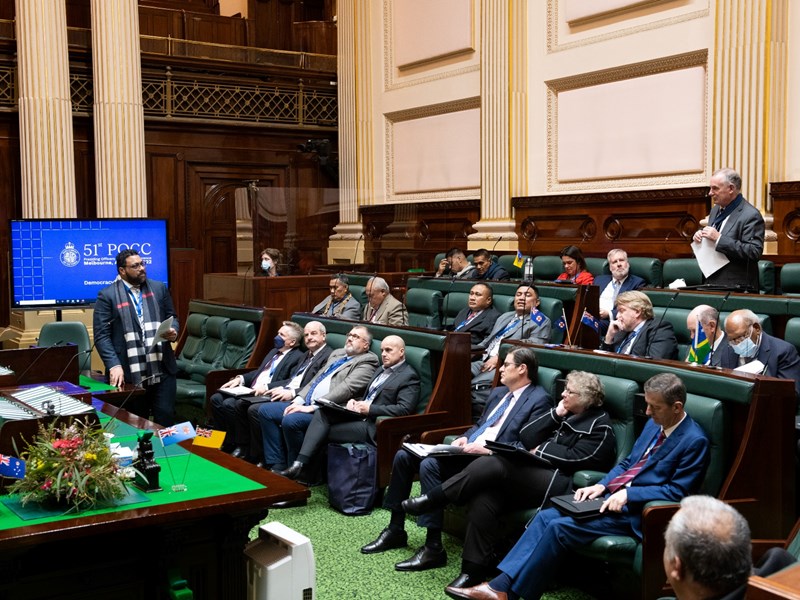 Parliamentary representatives from Australia, New Zealand and the Pacific have gathered in Melbourne to discuss ways in which parliaments can help to strengthen and revitalise democracy.
In the wake of the pandemic, Presiding Officers and Clerks representing 18 parliaments considered the ways in which legislatures have had to adapt their processes due to COVID-19 and what more can be done to better engage communities in the work of parliament.
'Democracy itself is being challenged in various parts of the world,' said Victoria's Legislative Council President Nazih Elasmar when opening the conference.
'But the resilience of our parliamentary institution is something we can all be proud of - a strong foundation from which to consider the requirements of the times we now face.'
He said the conference was an important opportunity to show that the parliaments of Australia, New Zealand and the Pacific are committed to moving forward through democratic practices and that democracy offers the best hope for all of us to address the issues we face in a just and inclusive way.
Conference participants spoke about the ways in which the pandemic led many parliaments to accelerate their use of technology to conduct sittings and parliamentary committee hearings. They discussed the lessons learned and how those insights can be used to shape the operations of parliaments going forward.
As part of the conference, meetings were held to discuss the forward plans for the twinning programs between Australian and Pacific parliaments. Under the twinning arrangements, joint capacity building and professional development initiatives are conducted for parliamentarians and parliamentary staff.
A representative of the United Nations Development Programme's Pacific Office also briefed delegates on the institutional strengthening work being undertaken in the region, with support from the Australian and New Zealand governments.
Photos: Vicki Jones Photography