Space to learn during Science Week
19 August 2023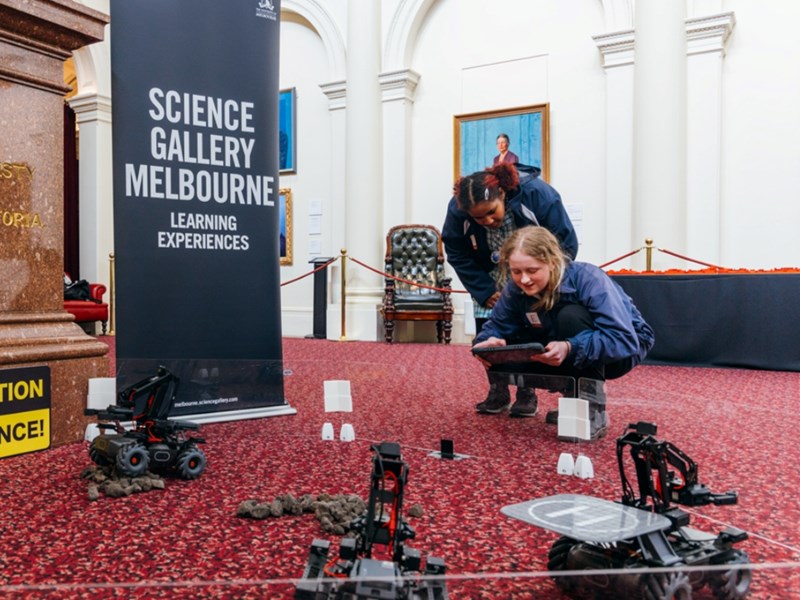 Mars rover robots have taken over Queen's Hall at Parliament House for National Science Week, as students from Pascoe Vale Girls College worked together to decide which industries are necessary for a successful terraforming mission to the Red Planet.
The program, developed by the STEM Centre of Excellence at Science Gallery Melbourne, in collaboration with the Australian Space Agency and Parliament of Victoria, offers students a unique blend of science, civics and art.
Named Mission Control, the learning program mirrors the parliamentary process and gives students the opportunity to act as members of parliament while they share information, debate ideas and solve problems.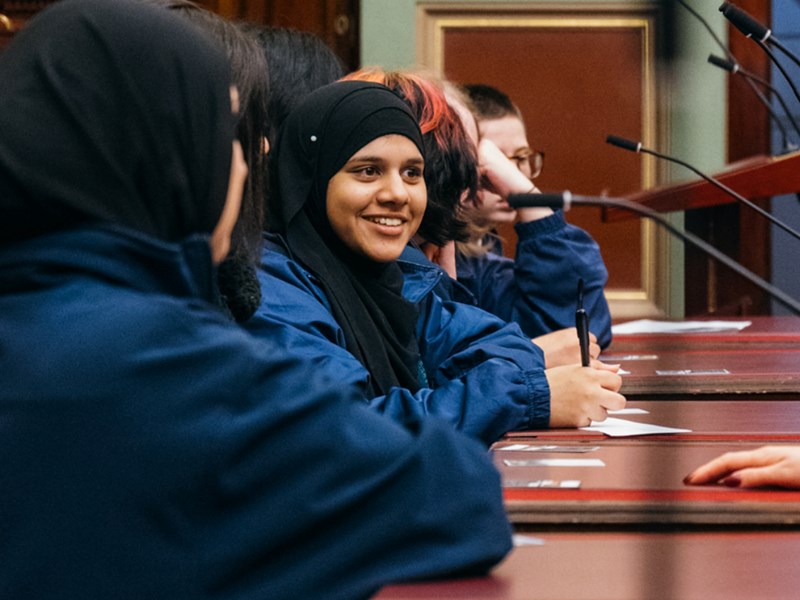 'We created the program to demonstrate the clear links between civics and science, and the importance of those two things being blended together when it comes to making decisions in a place like parliament,' said Science Gallery Melbourne educator and program presenter, Jesse Chambers.
He hopes the program will help students develop a number of their personal and social capabilities including collaboration, creative and critical thinking, and ethical understanding.
For the students from Pascoe Vale Girls College, Mission Control has allowed them the opportunity to make their decisions in the same seats of power held by the MPs that represent them.
'It's brilliant that parliament's able to offer us not only a space for us to run the program, but to provide their expertise about parliamentary process and procedure because it elevates the program,' Chambers said.
'Students are able to see the relevance of civics education when they're taking part in a program as rigorous as this, in a place like this.
'They're able to see that parliament's a place for them.'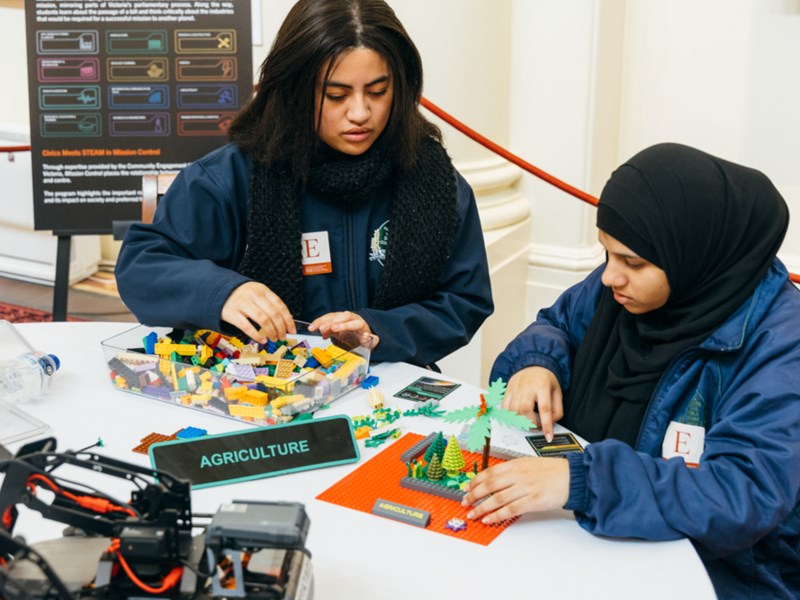 Pascoe Vale Girls College science teacher, Carolyn Drenen, said programs like Mission Control help to broaden the minds of students, exposing them to the world outside the 'ecosystem that we have at school'.
'It teaches them the soft skills of listening, speaking, negotiation and also the process of thinking and taking in everything before voicing an opinion,' she said.
She celebrates the opportunity for her students to learn and practice their skills.
Science Gallery Melbourne is part of the University of Melbourne and boasts a variety of exhibitions and learning programs created for and by young people.
These learning programs are intentionally designed to be antidisciplinary.
'We never put a label on them,' Chambers said.
'Our programs blend together a whole bunch of different subject areas because we know that when young people go out into the world, they're not existing in subject silos.
'They're going out and existing and using all of the skills and knowledge that they've garnered over their educational journeys to live fulfilling lives.'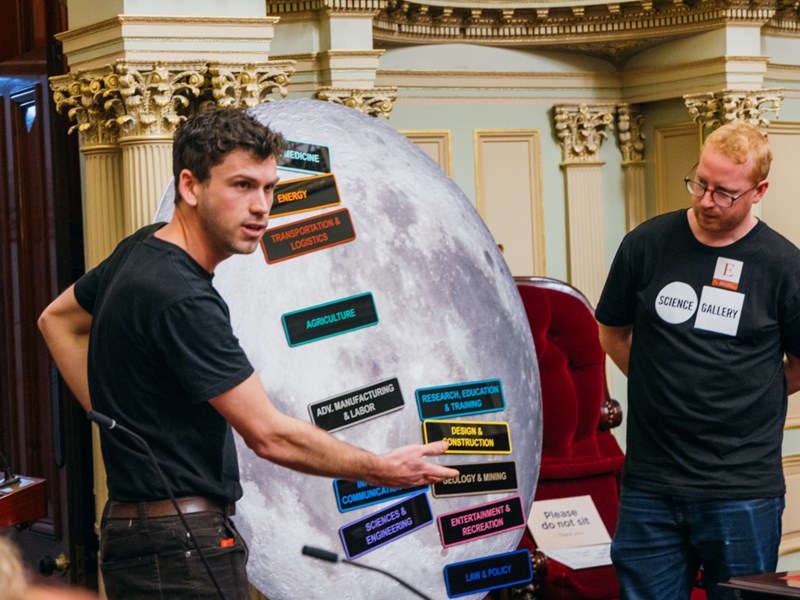 MPs Anthony Cianflone, Samantha Ratnam and Evan Mulholland joined the students for Mission Control's opening session, offering words of encouragement.
'I'd really encourage you to maintain a strong interest in the sciences because it not only sparks your curiosity…but also for you going forward in terms of career progression and skill opportunities, they are really going to be at the forefront, I believe, of the next chapter of Victoria's economic history,' Cianflone said.
Although currently small, Australia's space industry promises rapid growth and new employment opportunities with the sector expected to triple in size by 2030.
'I hope not only that you come away with new ideas about science and an interest in science that you might take away in your career, but also, in these seats, an interest that you might take away in public service,' Mulholland said.
Dr Samantha Ratnam also urged the students to consider running for parliament in the future and highlighted the importance of hearing from a diverse range of voices.
'Our parliaments need more scientists. They need more people who think in a different way,' she said.
'When you have differences across these seats, you have much better decisions and you have much better outcomes for the community.'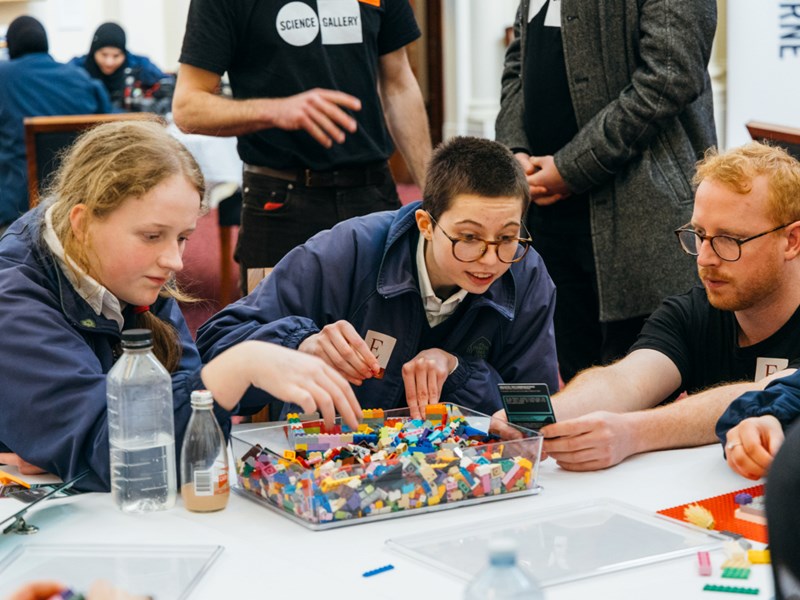 For most of the students from Pascoe Vale Girls College it was their first time visiting Parliament House.
'It was really interesting because I've never been inside Parliament House and I think it's a really great experience,' year 10 student Rahmakhan said.
'It's really nice to go inside and look at how the government works.'
The program has already inspired fellow student, Hind, to consider a future career in politics.
'It was actually a great experience,' she said.
'I'm thinking maybe I can be a role model and create a better future. Maybe I can be a representative.'
Providing young people with inspiration and facilitating their exposure to the world are core aims of learning programs like Mission Control.
'If you can't see yourself doing it, it's really hard to go on and do that as a career later on in life,' Chambers said.
'It's important to run events like these so that students can get excited about STEM education. They can get excited about science and the relationship science has to other learning areas.'
About the Author
Ellie Claringbold
Freelance writer Ellie Claringbold was a participant in the inaugural Parliament Express program for young writers in 2022.