Youth parliamentarians lead with purpose
26 June 2023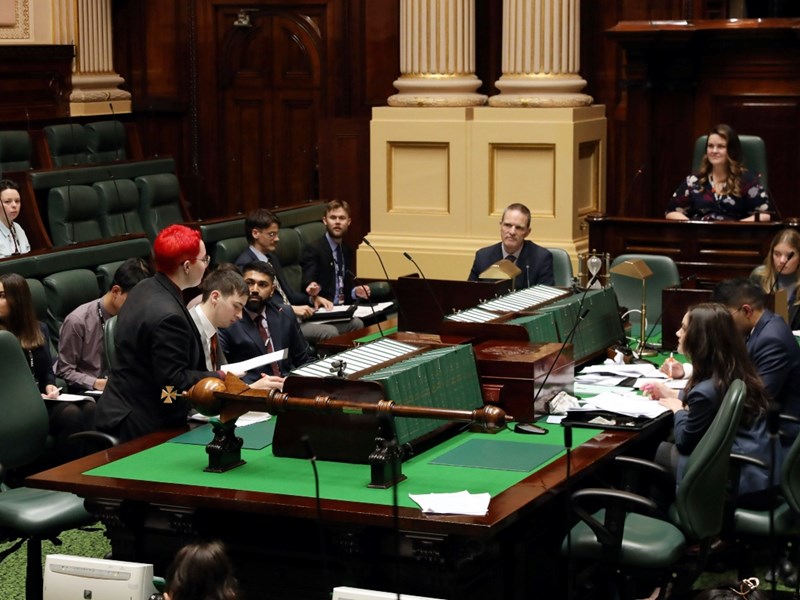 More than three decades after Victoria's first Youth Parliament, young people from across Victoria are once again showing the best of their leadership skills at Parliament House.
Aged 16 to 25, this year's youth parliamentarians have an ambitious program of bills to debate in the parliamentary chambers over three days.
'We had a few parameters to choose bills that we could realistically enforce into the future,' 2023 Youth Premier Krushnadevsinh (Kano) Ravalji said.
'You know a lot of young people are walking into Parliament for the first time and when you're actually going to be sitting in those seats debating topics that you've worked on for many hours, it's really special.'
At the start of the first session, more than 100 participants gathered in the Legislative Council chamber for the opening ceremony that featured current state MPs.
'I am very proud of young Victorians and the work they do – this is an opportunity for the youth of our state to make a real difference,' Youth Minister Natalie Suleyman said.
Shadow Minister for Youth, Sam Groth, spoke about the leadership role young people have.
'The truth is you are all leaders – and we need to listen to you more as politicians,' he said.
YMCA Victoria CEO Carolyn Morris said those chosen to represent their councils, schools and organisations at this year's YMCA Victoria Youth Parliament should be extremely proud of themselves.
'Everyone in this room is a changemaker,' Ms Morris said.
The youth parliamentarians are working in teams sponsoring or opposing bills in both the Legislative Assembly and Legislative Council.
'What is really exciting about this is that 30 bills have been passed through Youth Parliament that have become real legislation,' Youth Premier Kano said.
'It's a really exciting opportunity where young people can have an impact and have their voice heard on a bill they would like to pitch.'