Celebrations as Youth Parliament passes 18 bills
30 June 2023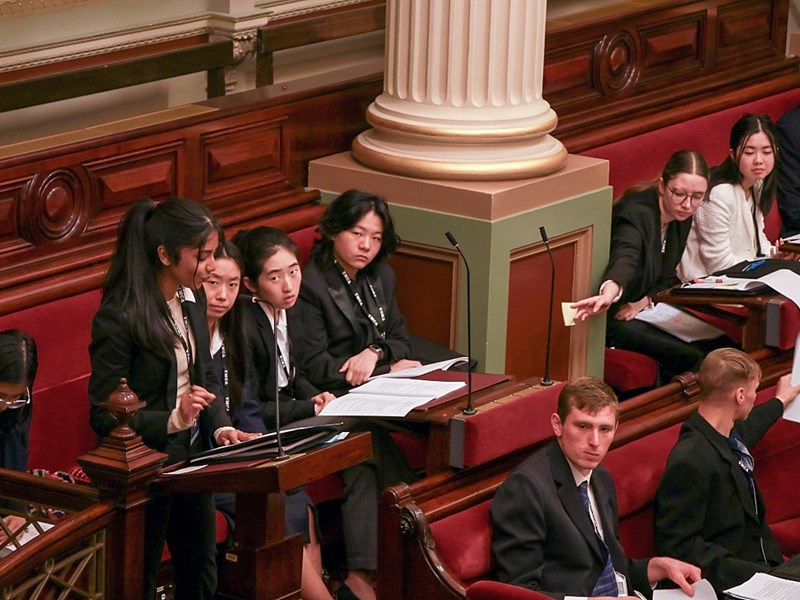 With 18 bills out of 20 passed into the hands of the current government, the 37th YMCA Victoria Youth Parliament has ended as enthusiastically as it began.
The closing ceremony brought a sense of satisfaction and relief as participants celebrated the completion of their deliberations.
'Victoria is changing, and you are going to be part of driving this change – make your voices heard and stick with it,' said MP Mathew Hilakari.
Speakers at the finale commended the group's efforts to pass their own bills after a week of sponsoring and debating issues, such as lowering the voting age to 16, which passed with ease.
'You are commanded to transact the work on behalf of young Victorians – know we are all proud of you and the great things you do for our state and country,' said Leader of the Opposition John Pesutto.
The work carried out by the youth parliamentarians and staff this week continued an important tradition, with the 18 accepted bills now making up 86 bills passed since the first Youth Parliament took place in 1987.
'You are the inspiration of our future, don't underestimate what you have achieved here,' said Board Chair of YMCA Victoria, Dr Lindsay McMillan.
'Don't take lightly what you have experienced – you are making a difference.'
The Youth Press Gallery was also kept busy, covering the work that the youth parliamentarians did over the three days at Parliament House.
'This is my first year as Youth Press Gallery Director and I am so proud of every single participant. The YPG journalists have been amazing, they've grown and have learnt so much,' said Ruby Sait, who coordinated the young media team this year.
'They have realised how much they can do within this space that they want to come back next year, they want to do journalism and they want to just thrive and it's so great to see.'
Debates in both the Legislative Assembly and Legislative Council were reported on by the youth journalists.
'There's been a whole range of bills that have been covered and it's really great to see how all these different issues affect young people – to see that reciprocated in young people wanting to have a voice and to have a say in these issues,' said youth journalist Cathy Langley.
'We all come from the same place of wanting to be youth advocates and share stories with other people.'
There was a bittersweet feeling when this year's Youth Parliament drew to a close, as the bills passed from the minds of young Victorians and into state government hands.
'It was an incredible week, and it has been the biggest honour to see you all grow – it will be very hard to ignore the people in this room,' Youth Governor Miora Trainor said.
'By being heard you show it's possible to make a difference.'