Being menopause friendly in the workplace
5 November 2023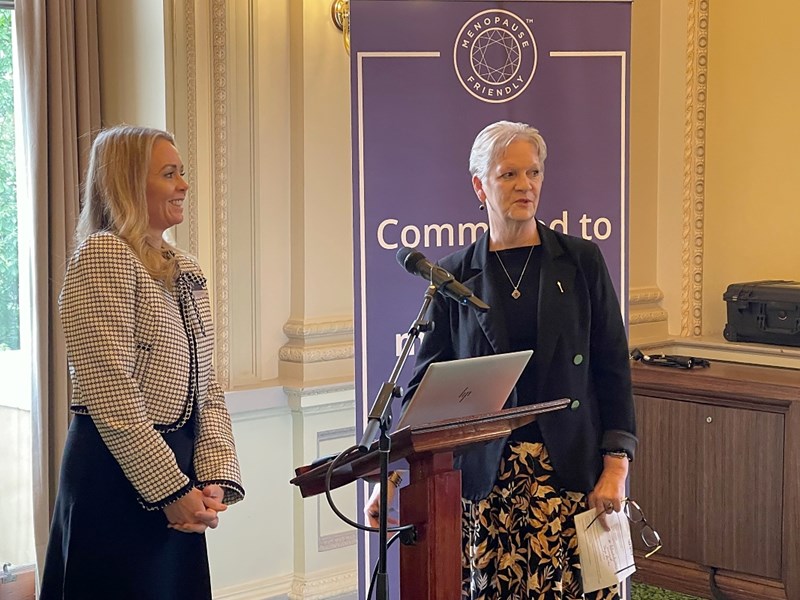 A briefing held at Parliament House has highlighted the important role workplaces can play in supporting employees going through menopause.
'People feel they can't talk about it at work, and we need to change that,' said Grace Molloy, Chief Executive Officer of Menopause Friendly Australia.
Ms Molloy and her colleague Tania Dalton were invited to make the presentation to Members of Parliament and staff by Legislative Assembly Speaker Maree Edwards.
'We now have close to 49 per cent women in the Parliament and basically it's time to start talking about things that matter to women,' Ms Edwards said.
According to Grace Molloy, improved productivity, better health outcomes for employees, fairness and safety are key reasons why workplaces should take menopause seriously and provide the support that is needed.
Currently 81 per cent of people going through menopause are at work.
'There are huge implications for people who are struggling through this who are trying to stay at work,' Ms Molloy said.
While studies have shown that women would like to retire at the age of 64, the average age of retirement for women in Australia is 52.
'That's a huge amount of lost productivity, 12 years of lost productivity,' she said.
Ms Molloy noted that 45 per cent of women who retired before 55 cited health reasons for leaving work early.
The stresses associated with enduring the symptoms of menopause at work can be debilitating.
'Being able to support people through menopause could help to lower stress-related injuries and keep people well for longer and bring people back into the workforce sooner if they are going on leave because of this heightened feeling of stress,' she said.
Measures that workplaces can take include implementing appropriate policies and guidance, creating an open culture for discussing menopause, providing the right training and support, as well as menopause friendly workwear and facilities.
In response, Speaker Maree Edwards said she hoped that Parliament would strive towards becoming accredited as a menopause friendly workplace.
For more information, visit the Menopause Friendly Australia website or follow them on LinkedIn for updates on seminars they run.