2021 National Schools Constitutional Convention
03 May 2021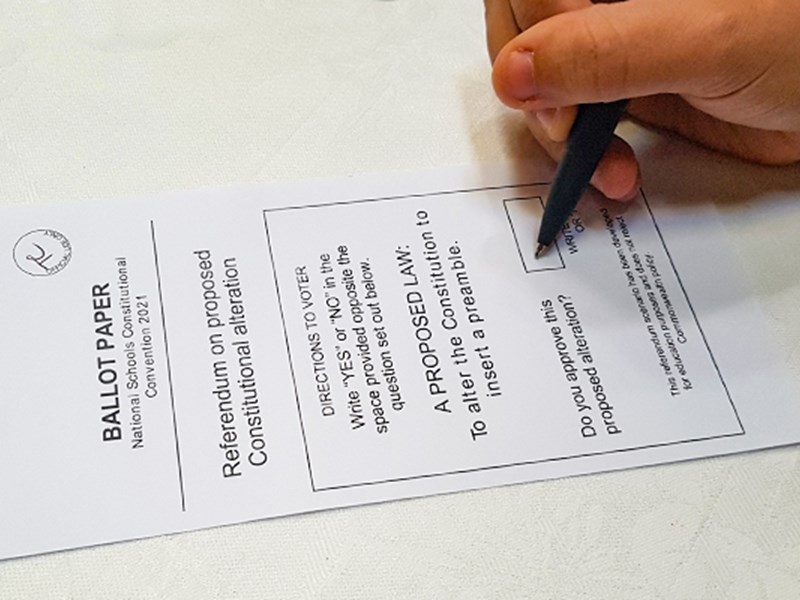 The National Schools Constitutional Convention took place on the 24 & 25 March, which would normally see students from all around Australia travelling to Canberra for the two-day event. This year the convention was held across 11 hubs connecting with Canberra, the central hub, via video conferencing.
Across the two days students addressed the question "Should the constitution have a new preamble that would recognise our history, our aspirations and the many peoples and groups that make up our nation?"
Students drafted a preamble in their groups, and these were workshopped to create the final preamble for the convention:
As the people of Australia, we are united across States and Territories to see the common good, interconnected through culture and heritage, we recognise the First Nations peoples, whose sovereignty was never ceded, and on whose land we reside and swear to protect. Through these aspects we strengthen our Australian identity. We shall live our lives under the rule of law, in respect to our democratic values set out by the Commonwealth.
We acknowledge the ever-changing nature of Australian identity, recognising that time will bring new peoples, cultures and ideals.
We pay our respects to those who have served and continue to serve our nation in times of peace and conflict.
We pledge to be people who strive for equality, regardless of gender, race, faith, or culture while swearing to protect the honourable Constitution of Australia.

Just like a referendum, students voted yes or no to including the preamble. They had to present to the polling place, provide their name and identification, confirm that they had not voted before in this referendum, before filling out and submitting their ballot.
Once all the votes were counted, scrutineered and double checked, the final result was revealed. The referendum achieved a double-majority yes vote for the preamble to be included.

Year 12 student and convention participant Kavindi, summed up her experience:
Overall, this experience was extremely valuable. I was privileged to meet like-minded people, meet the Governor General, and contribute to the formation of a new preamble. It is an experience that I will not forget and treasure for a very long time. I strongly encourage students who are interested in politics and law to involve themselves in all the amazing opportunities available to them, in particular the National School Constitutional Convention.
With the Victorian hub just across the road from Parliament House, at the Windsor Hotel, we were pleased to welcome students for a chat and a tour of Parliament on the Thursday morning.

Later this year, the Victorian Parliament will host the Victorian Students' Parliamentary Program, including both primary and secondary conventions. These conventions are run by the National Curriculum Services, so if you're interested in your school participating or you would like to know more, visit ncsonline.com.au.