Meet Bronte, our youth associate
12 October 2021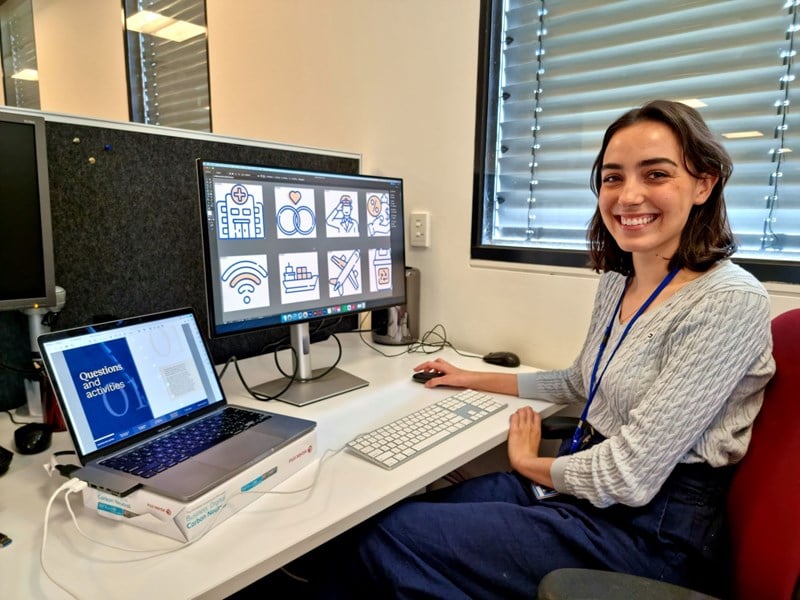 Bronte Olander has been working with the Community Engagement team as a Youth Associate in graphic design since late June, to support the creation of a number of new education resources.
A large part of her role has been implementing the new branding guidelines within the education resources, such as a suite of professional learning resources based on the panel discussion Parliament and the people: a focus on committees and a new law reform case study: Medically Supervised Injecting Centres. You may have also seen Bronte's work on some of our recent social media posts.
One of the main things Bronte has enjoyed about working at Parliament is the opportunity to experiment with the new brand. "It feels quite flexible and open to new interpretations. That's been really enjoyable getting into the nitty gritty of the design work. And it helps that everyone was trying to figure it out at the same time. Being able to get feedback and consult with the Community Engagement team, and working closely with Glenn and the other designers at Parliament of Victoria has been really useful".
Working with the new brand has also provided Bronte with opportunities to consolidate some of the skills she has learnt as part of her graphic design course at Swinburne University.
"The brand is really refined, with two fonts and a handful of colours—this is consistent to what I've been learning at University. It initially seems like there are only a few possibilities, but when you look at it closely and begin brainstorming and experimenting, there are lots of different directions that it can go. And working at Parliament of Victoria, I've really learnt the importance of constantly asking 'who is this design for?' as the target audience for Parliaments projects are certainly the largest I've worked with. This is where applying user-centre design concepts is something more familiar to me now."
Bronte has loved working at Parliament, and even though most of that time has been working from home, she has felt included in the team, also reflecting that working from home has meant learning the importance of communication and asking questions to "make sure everyone is on the same page."
One of the highlights of Bronte's time at Parliament of Victoria has been having the opportunity to go into the Council during a sitting. "Even though it didn't directly relate to my design work, it was really interesting to listen to the MPs talk about their issues, the diversity of opinions and backgrounds. They are people doing their job, which is something that I hadn't really thought about when seeing lots of people in suits".
"The most surprising thing about my placement has been learning how important Parliament is especially the work of the Community Engagement team. I've really enjoyed my time at Parliament. It's pushed me out of my comfort zone and, if I've ever been hesitant about taking on an opportunity before, this has proven to be such a great experience".
"My time at Parliament has really proven to me that I should always give things a go and follow my gut instincts. I hope to take this lesson into the New Year, where I will soon be graduating from my Bachelor of Design at Swinburne. I'm hoping to travel to parts of the world to explore new areas and inspiration of design to build up my experiences and ideas before continuing my career in the creative field."
We wish Bronte the best of luck in finishing her degree and her future career and travels.