Special student workshops explore community meeting places
17 March 2022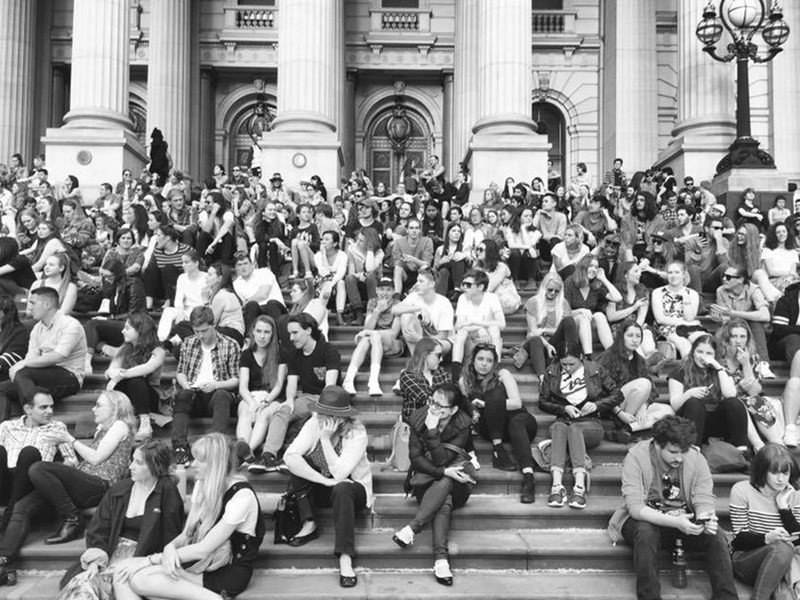 A special series of student workshops on the steps of Parliament House

3 to 19 May, on Tuesdays to Thursdays at 10am and 1:30pm

Register below to reserve your free workshop for up to 25 students

Presented in conjunction with the PHOTO 2022 international festival of photography

Please note: Bookings for these student workshops are now closed.
---

These interactive and hands-on workshops will focus on how people use the formal and informal spaces of Parliament to meet, use their voice, and influence the democratic process.
Students will gather on the steps of Victoria's Parliament House, the site of a major photographic artwork that will be on display as part of the PHOTO 2022 international festival of photography. By exploring the themes of this artwork, students will consider the many ways in which communities across our state come together to meet, and how Parliament House is used as a meeting place by different people for different purposes.
The workshop addresses the Victorian Curriculum, and is most suitable for middle years students, but is easily adapted for senior level students.
Through this workshop students will reflect on the different types of meeting places in their lives and why they are important.
Workshops cater for up to 25 students and will run Tuesday to Thursday at 10am and 1.30pm for 60 min, throughout May.
A note about school tours: This program takes place on the steps at the front of Parliament House. There will be no access inside Parliament House unless an additional school tour of the building has been booked in advance. Please let us know if your group has any accessibility requirements that need to be considered.
For any enquiries, please contact education@parliament.vic.gov.au