Parliamentary role-play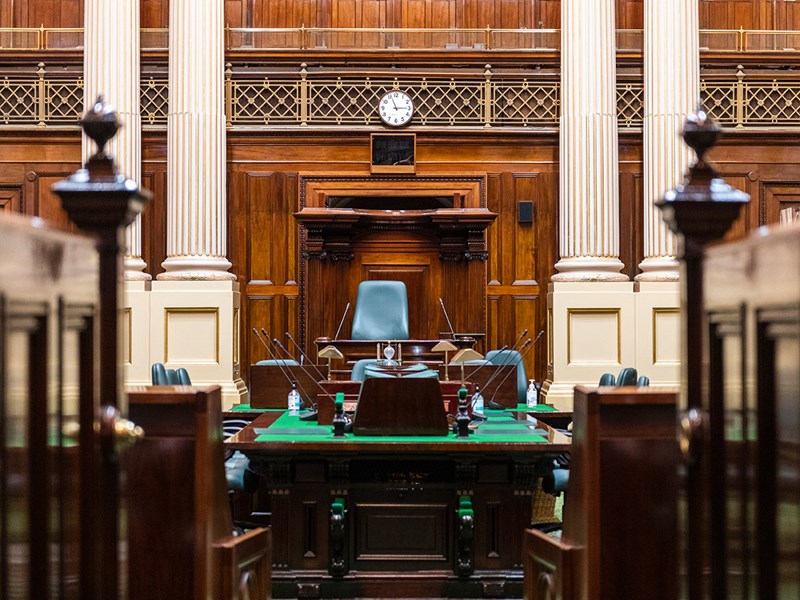 About our role-plays
This interactive activity allows students to experience the law-making process firsthand while they take on the roles of Speaker, Clerk, Serjeant-at-Arms, Premier, Leader of the Opposition and other members of Parliament. The role-play is conducted over 90 minutes and includes a short tour of Parliament House.
We offer free role plays for students in grades 5/6 and VCE Legal Studies in groups of up to 30 students.
Our role-play sessions have been designed to align with the Victorian curriculum.
Role-play topics for grades 5/6
We have a number of different topics for role-plays that we will ask your students to vote on during the session.
Currently the topics are:
Road Safety Bill
Plastic Straws Bill
Gambling Advertising Bill.
You can also prepare your own topic with your class by following these instructions:
Role-play topics for VCE Legal Studies
We use real bills that have been passed through the Parliament as case studies to show how the Parliament makes laws.
At the time of booking, you will be asked to choose one of the following bills:
Crimes Amendment (Bullying) Bill 2011 (Brodie's Law)
Crimes Amendment (Sexual Offences and Other Matters) Bill 2014 (known as the Sexting Bill)*
Voluntary Assisted Dying Bill 2017*
Drugs, Poisons and Controlled Substances Amendment (Medically Supervised Injecting Centre) Bill 2017*.
*These bills are examples of law reform coming from a Parliamentary committee inquiry.
Locations, date and times
Role-plays are available here at the Parliament of Victoria at 10:30 am and 1:30 pm, Monday to Friday when the Parliament is not sitting.
The role play runs for approximately 90-minutes and includes a short tour of the Parliament.
If you are in Metropolitan Melbourne, we can visit your school to run a role-play in the classroom. Check availability and booking details.
We also visit regional destinations and run our role-plays from a local venue. For more information on the locations we will be visiting this year, check our regional visits schedule.
Bookings & Enquiries
View Availability
To make a booking, click the button below to view our available dates and times.

Times and dates for 2024 will be released in mid-January 2024.
Make a booking
Once you have found your preferred dates and times, email your booking request to tours@parliament.vic.gov.au with the following information:
Selected date/s
Time/s
Number of students (up to 30)
Class year level
Role-play topic/bill (VCE Legal Studies students)
School name and address
Contact number for the booking
Enquiries