Parliament House
Queen's Hall
Queen's Hall was completed in 1879. Originally called 'The Grand Hall' or 'The Great Hall', it was renamed in 1887 to celebrate Queen Victoria's golden jubilee.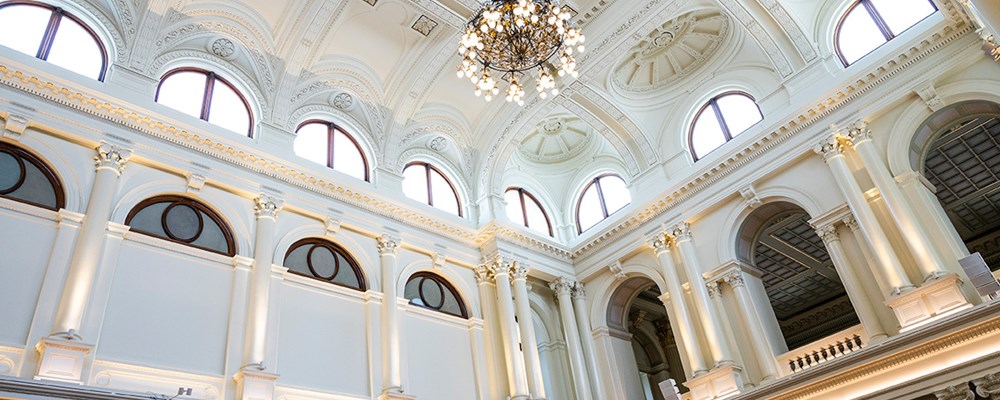 On this page
Uses of Queen's Hall
The room is used for receptions, functions and exhibitions. It is also available for hire to the public.
Queen's Hall may not be used for political purposes. Political parties must hold their fundraisers and press conferences elsewhere.
Host an event in Queen's Hall
Statue of Queen Victoria
Queen's Hall is best known for a marble statue of Queen Victoria installed in 1883. It was sculpted by English artist Marshall Wood.
The Queen is shown in ancient Roman dress and holds a sceptre and a wreath, which are symbols of victory and power.
The artist's name can be seen carved next to the Queen's foot, mistakenly spelled 'Mashall Wood'.
Victorian Premiers' portraits
Queen's Hall also houses most of the Premiers' portraits collection.
The Parliament of Victoria commissions a portrait of each Premier after they leave political life.
The collection was started by Frederick Grimwade, President of the Legislative Council (1979-85).
Other features
Queen's Hall has white plaster walls, not decorated with the gold leaf seen through the rest of the building.
The tiled floor has been mostly covered with carpet to reduce noise and echo.
A balcony area can be seen on the eastern wall, called the minstrel gallery. Musicians would play from this gallery during receptions and events, hidden from view.
Portraits of Queen Victoria and Prince Albert are mounted in the minstrel gallery, copied from originals displayed in Windsor Castle, England.